Introducing BeFries and the brains behind the company that is spearheading the Fries revolution in the UK. We spoke to brothers Dashal and Chan Beevers, the owners of BeFries, to find out more about how a simple concept has resulted in commercial success for them.
We wanted to know how they have managed to stand out from the competition and being based in Brighton, there is some strong competition when it comes to selling chips. So, what is it that separates these guys from the huge variety of chippys on offer?

BeFries are not short of praise for taste; using locally sourced potatoes, cut by hand and cooked to crispy-perfection-order, it's their sauces that really sets them apart from their competition.

BeFries currently offer 22 unique sauces. They boost a range of completely homemade dips and sauces using classic bases, their most popular being the peanut satay and homemade garlic mayonnaise.

Customers play an important part in creating the sauces as well, with suggestions for new flavours encouraged, a particularly good request recently was for a Marmite flavour – love it or hate it!

Dash and Chan said: "this is a really fun element for us, taking something very traditional, cooking it very authentically and allowing customers to be creative when visiting. People's taste buds have evolved so much in the past 10-15 years and we love that fact that we can include flavours from many different cuisines from around the world in our menu."
A large portion of the sauces at BeFries are mayo variants, which take either a homemade mayo or a base mayo and the chefs add fresh ingredients to the base to create their unique dip. Up-selling mayo variants is a way to make money and bring value to dishes, why not try this on your menu?
Another key ingredient to the success of BeFries is their strong brand identity. They currently have 5 sauces available to buy as part of their BeSaucy range, and also their own locally brewed craft beer as part of their BeCrafty range – great products, well branded to help set them apart. Simple branding solutions like this can open up commercial opportunities beyond the menu, with existing and potential customers. 

When we asked Dashal and Chan what they do to get more people into the restaurant, they spoke about their monthly "Best of Both" event where they partner with another local food business to put on an event.

Here's an idea, pimp up your mayo and add it to your bar snacks menu? People will pay for it, just ask the guys at BeFries.

If you think adding a customized sauce to your menu could make a difference to your menu and sales, visit our Webshop - check out our classic sauce range and latest promotions!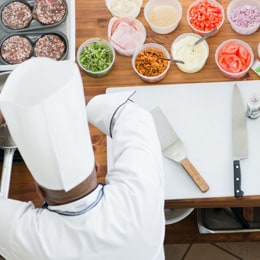 Our web shop with great promotions for professional chefs and our brands like Knorr, Hellmann's, Colman's and many more.
Visit Webshop