Arancini di Riso - Roasted squash, sage & pine nut
Using semolina in the breading gives the arancini an extra crispy coating.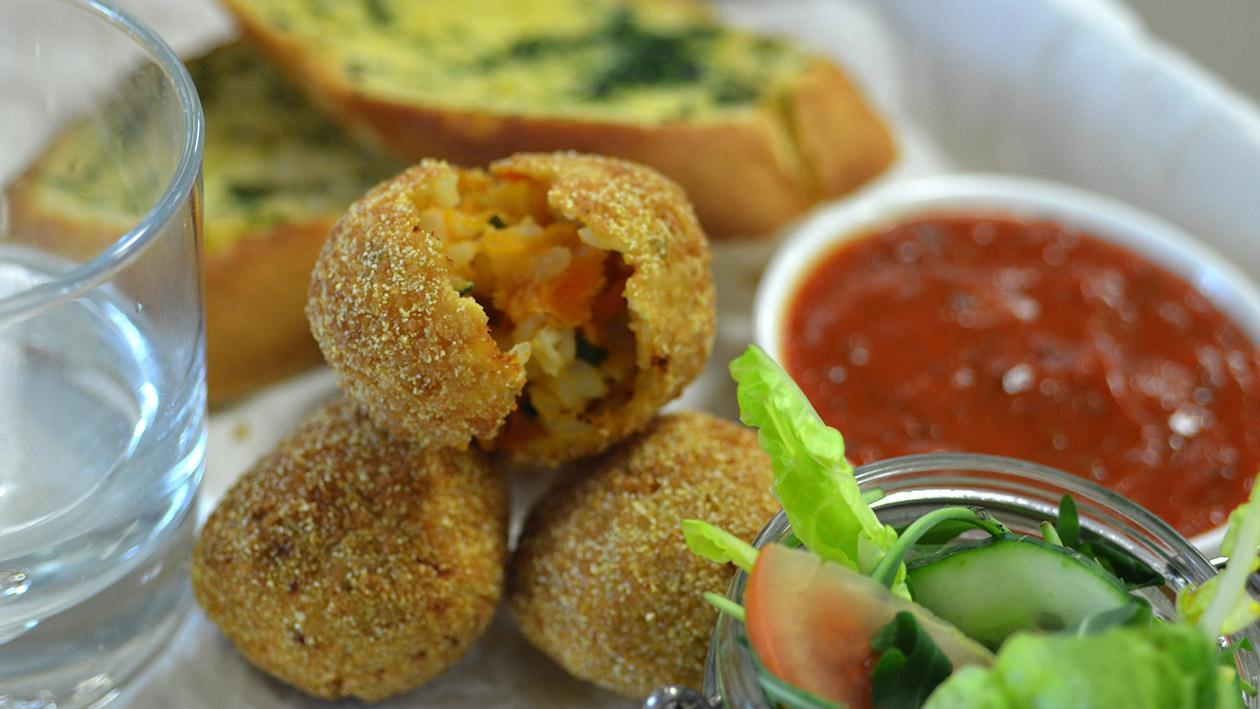 Ingredients
For the filling
MEADOWLAND Professional 250g

20 g
For the arancini
For service
Preparation
For the risotto

Bring the water to the boil then whisk in the KNORR Paste Bouillon. Peel and dice the onion. Heat the oil then add the onions and cook for 2-3 minutes. Add the rice and cook for a further 2-3 minutes. Add ¼ of the bouillon and cook until the rice has absorbed the liquid then repeat until the rice has softened but still has bite. Allow to cool until needed.

For the filling

Cut the butternut squash in half length ways and scope out the seeds. Place on to a roasting tray and bake for 30-35 minutes @ 170°C. Remove and allow to cool slightly then scope the flesh out into a bowl.

Melt the MEADOWLAND Professional in a frying pan then add thesage and pine nuts and cook for 1-2 minutes or until the pine nutshave browned slightly. Remove from the heat and add to the cooked butternut flesh.

For the arancini

Mix the breadcrumbs and semolina together then place into a shallow tray. Crack the eggs and lightly beat then pour into a separate shallow tray and pour the flour into another shallow tray. Mix the cooked butternut squash in to the chilled rice. Take roughly 40g balls of the rice and roll then dip into the flour then egg and finally the breadcrumbs ensuring the rice is completely covered. Chill until needed.

For service

Pre-heat a deep fat fryer to 180°C.

Carefully place the balls into the hot oil and cook for 3-4 minutes or until golden brown then remove and drain on kitchen paper.

Pour the water and KNORR Tomato & Basil Concentrate sauce into a saucepan and bring to a simmer. Cook for 2-3 minutes or until the sauce thickens then pour out into dip pots.

Serve 3 arancini with a portion of sauce to dip into.