French toast filled with strawberry jam
Try out our classic French toast recipe for the summer and BBQ season: the classic French toast with a strawberry jam filling. Dipped in an egg then cooked in caramel to seal in the moisture. Prepare it with MEADOWLAND Professional and MEADOWLAND Double to give it the perfect taste and to save time and money.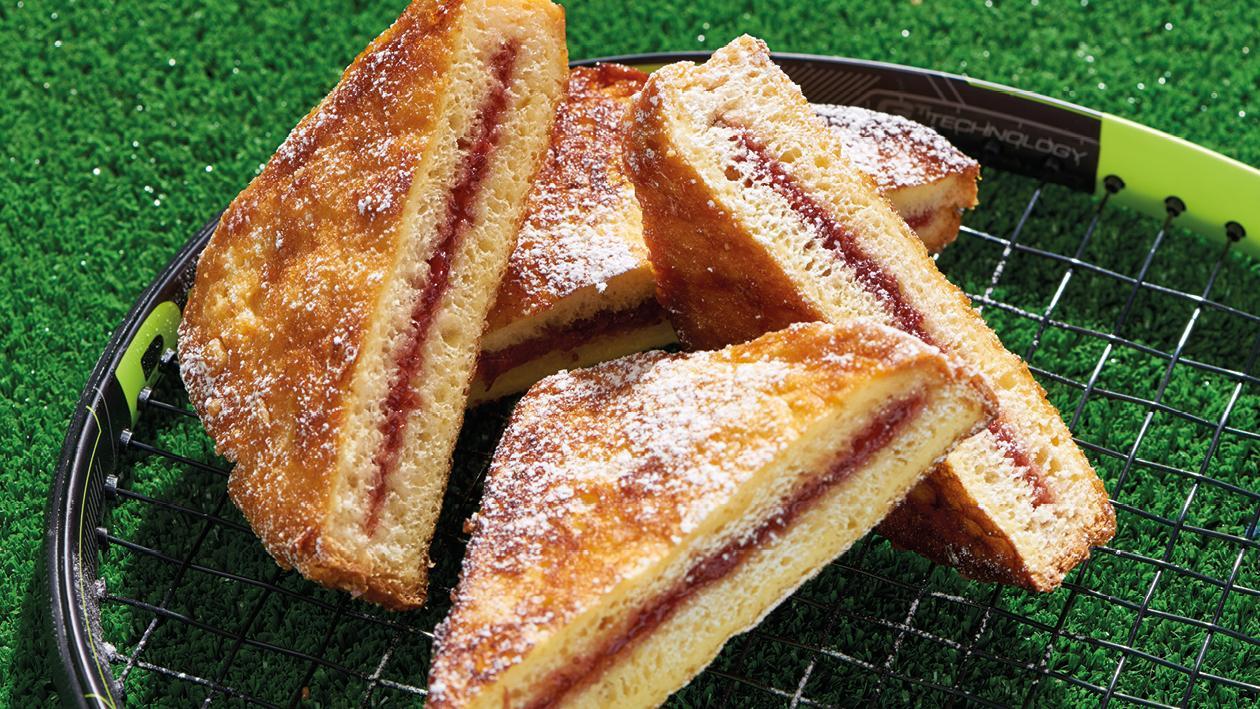 Ingredients
For the brioche:
MEADOWLAND Professional 250g

220 g
For the brioche sandwiches:
For the French toast
MEADOWLAND Double 1L

300 ml
Preparation
For the brioche:

Sieve the flour, sugar & salt together into mixing bowl.
Warm milk and add the yeast, ensure the yeast dissolves completely.
Beat in the eggs and add to the dry ingredients, mix to a smooth dough.
Gradually add the softened MEADOWLAND Professional.
Place into an oversized bowl and cover with cling film 3 times and allow to prove overnight in the fridge.
Heavily flour the work surface and remove the dough from the proving bowl.
Knock back the dough and divide into 100g balls, shape and place into floured loaf tins (approx 4 balls).
Allow the balls to prove to double in size.
Egg wash with yolk, salt & water.
Bake for approx 10 min. at 200°C then lower temperature to 180°C.
Remove from oven when top, sides & bottom are brown and sound hollow when tapped.
Place on a wire rack to cool completely.

For the brioche sandwiches:

Cut the brioche in to 20 slices.
Cover 10 of the slices with strawberry jam then sandwich with the remaining slices of brioche.

For the French toast

Whisk together the eggs and milk with the MEADOWLAND Double then place into a deep tray.
Take each sandwich and coat in the egg mixture on both sides.
In a pan heat the sugar until a light caramel is formed.
Carefully add in the coated sandwiches and allow to colour on both sides.
Remove from the pan and then dust lightly with icing sugar.