Grilled Piri Piri chicken with oven roasted sweet potato, chick pea and baby spinach
Grilled chicken thighs served with a warm salad using the KNORR Piri Piri Paste.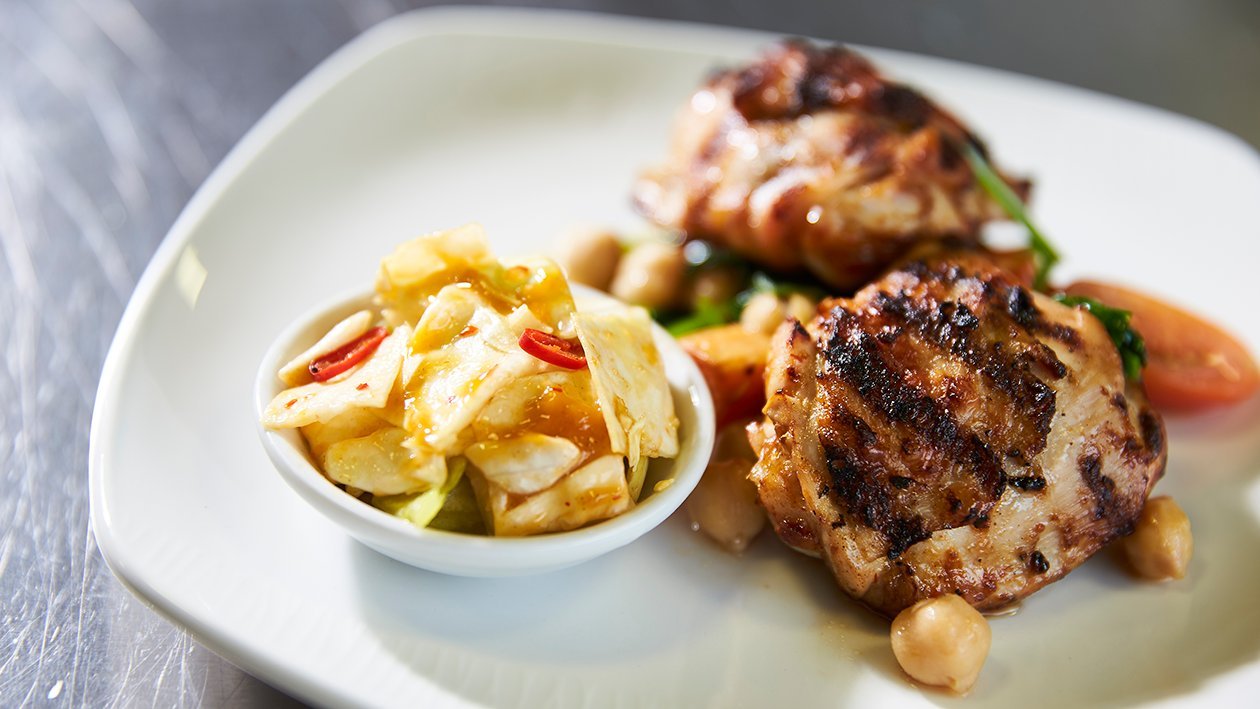 Ingredients
Piri Piri Marinade:
Chicken thighs, skin on & bone in

1.2 kg
For the garnish:
Preparation
Advance Preparation:

Peel the sweet potatoes and dice into 2cm cubes.
Wash the baby spinach and drain
Cut the cherry tomatoes in half.
Drain the chickpeas and rinse off.

Piri Piri Marinade:

Trim any excess fat of the chicken thighs.
Place the chicken thighs into a bowl and mix through the KNORR Piri Piri Paste.
Leave to marinate for 3 hours prior to use in fridge.

For the garnish:

Blanch the sweet potatoes for 4 minutes, then drain.
Whilst hot toss over 75ml of sunflower oil and place in a gastro tray.
Roast in the oven at 180c until lightly roasted.
Add in the chickpea and continue to cook for 5 minutes.
Remove from the oven and stir through the spinach and cherry tomatoes.
Keep hot until required

Cook and serve:

Grill the chicken on the char-grill ensuring a good colour on the meat.
Once thoroughly cooked remove from the heat.
Place the roast sweet potato mix on the base of the plate and place the meat on top.
Serve with a Piri Piri Kimchi.