Ham & Mushroom Pizza
This pizza dough recipe is crisp, light and simple to make and can be accompanied with a range of different toppings.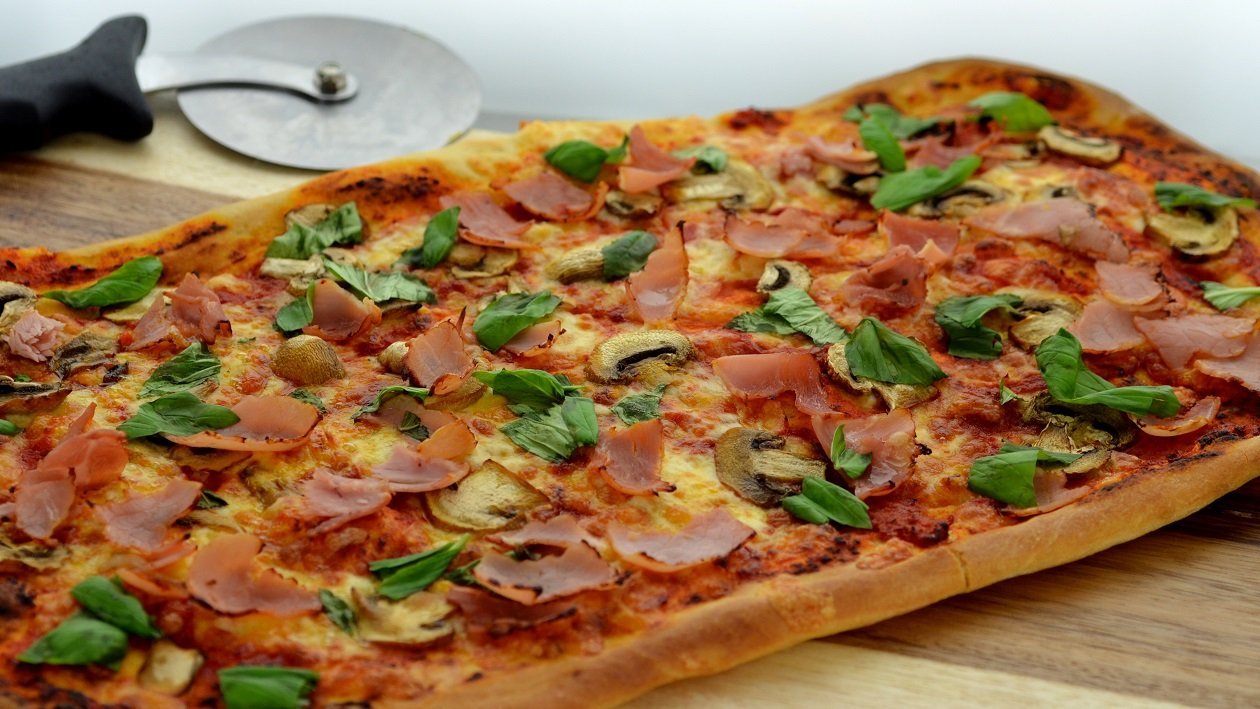 Ingredients
For the pizza dough:
To assemble:
KNORR Tomatino Tomato Base

150 g
Preparation
For the pizza dough:

Put the strong flour and semolina into a mixing machine with paddle attachment.
In a separate bowl whisk together the yeast, sugar and lukewarm water then leave for a 2-3 minutes to activate the yeast.
Turn on the machine on a low setting then start to add the yeast and water mixture.
Increase the speed for 4-5 minutes until you have a smooth soft dough.
Place the dough in a lightly greased large bowl. Cover with cling film and leave to prove for 45 minutes or until doubled in size.
Divide the dough into 2 balls and wrap them in cling film, leaves these for 15 minutes.
Meanwhile preheat an oven to 250c.
Grease two flat gastronome trays with oil and dust with semolina flour.
Roll each ball with a rolling pin into a rectangle shape 0.5mm thickness.
Place the bases on the gastronome trays, and with oiled hands spread the dough evenly to the sides of the tray.

To assemble:

Dividing the ingredients between the pizzas.

First spread the KNORR Tomatino on the pizza base (avoiding the edges).

Scatter the mozzarella and ham over the pizzas and bake in the preheated oven for 6-7 minutes till the pizza is golden and crispy.

Garnish with torn basil leaves. Serve with a side salad.