Lemon meringue craqueline choux
A little twist up of a lemon meringue, with the lemon filling set inside a choux pastry bun with a cracked biscuit case with Italian meringue to finish this  impressive dessert.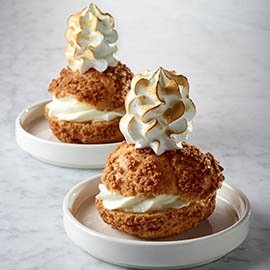 Ingredients
For the Craquelin discs:
For the choux buns:
For the Lemon mousse:
Preparation
For the Craquelin discs:

Place the flour, butter and sugar in a electric mixer and mix until a dough forms.
Place between 2 sheets of greaseproof paper and roll out to 0.5Cm thickness.
Then using a round cutter, cut out rounds approx. 1.5" across.
Place in a refrigerator until required.

For the choux buns:

Place the water and butter in a pan and bring to the boil.
Add the strong flour and beat well still on the heat to remove excess moisture,
Allow to cool slightly, then add the eggs one at a time, continuously beating, add the salt and the sugar.
When the mixture starts to leave the side of the pan, then place in a piping bag.
On an oven tray lined with parchment, pipe bun shapes, approx. 2" across leaving enough space in between , with a wet finger smooth the tail down.
Place the prepared craqueline discs on top.
Place in an oven and bake at 200c for 20 -25 minutes.
Place on a cooling rack and allow to cool, then make a small hole with a knife to allow the steam to escape and dry out the bun.

For the Lemon mousse:

place 105g of CARTE D'Or Lemon Mousse Mix and 250ml of cold milk into and electric mixer
Whisk for 2 minutes on a slow speed and then 5 minutes on high speed.
Place in a piping bag until required.