Piri Piri flat bread with lime roasted king prawn salad
Do not miss this prawn sandwich for your pub menu! Try out this light and delicious recipe with roasted king prawn salad and some extra spicy taste. Save up time while using the KNORR Professional Piri Piri Paste for preparing the flat bread.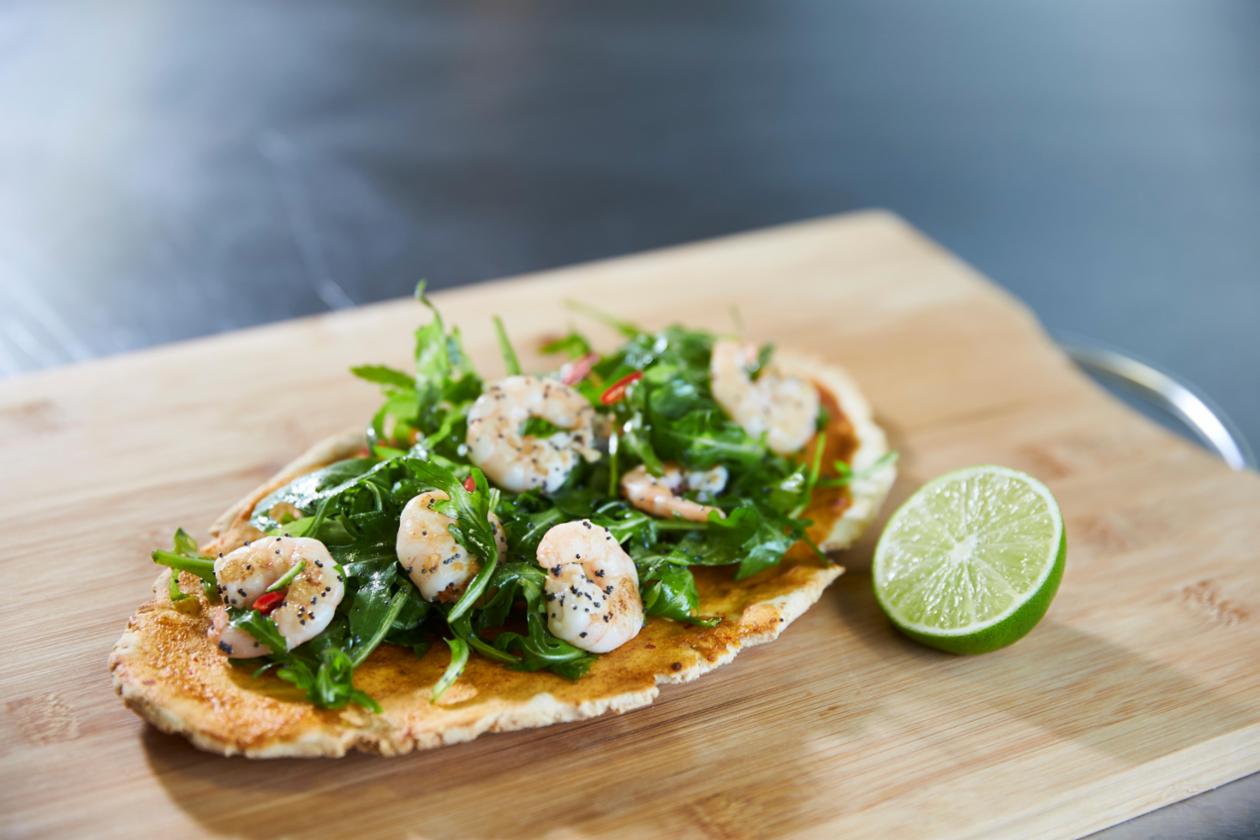 Ingredients
Advance Preparation:
Flat bread dough
Making the flat bread:
Preparation
Advance Preparation:

Set the oven to 200°C.
Rub 10ml of oil onto each baking tray and dust with the ground semolina.
Do this 4 times.
Ensure all prawns have been cleaned and deveined.
Finely slice the spring onions.

Flat bread dough

Put the caster sugar, rice flour, potato starch, tapioca flour, xantham gum and salt in to a mixing bowl.
Using the dough hook start to mix the dry ingredients together.
Slowly add the milk, eggs and cider vinegar into the mix.
Once it forms a smooth dough take out and divide into 10 even balls and cover with clingflim.

Making the flat bread:

Place the dough directly on the tray and roll into an oblong (these need not be uniform).
Take 30g of Piri Piri paste and spread across the top of each flat bread.
Bake at 200°C for 12 min. or until they are cooked and crisp.
Whilst these are cooking place a large frying pan on the heat and pan fry in 20ml of sunflower oil the prawns, making sure they are coloured on both sides.
When they are almost finished pour in 50ml of the lime juice.
Place the prawns in a large bowl and keep hot.
Add the rocket and spring onions and toss all in together.
Add in the remaining lime juice and olive oil to make a quick dressing.
Place the garnish on top of the freshly baked flat breads and serve.