Teriyaki glazed rice & vegetable skewers
The vegetarian teriyaki skewer with crispy rice and glazed oriental vegetables are easily prepare with the authentic taste of KNORR Blue Dragon Teriyaki Marinade. Served with a selection of pickled Vegetables
Vegan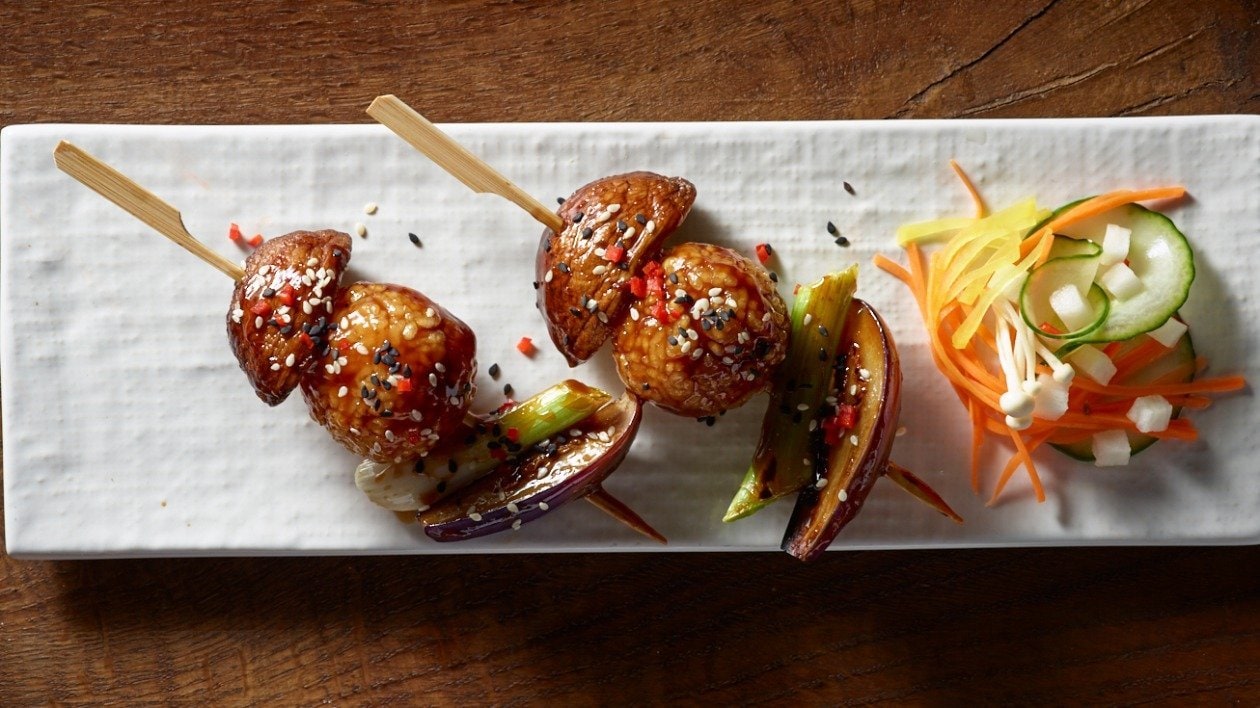 Ingredients
Teriyaki glazed rice & vegetable skewers
For the skewers:
Spring onions
/g
160.0 g
0%
Chestnut mushrooms
/g
340.0 g
0%
Red Chillies
/g
20.0 g
0%
Baby Aubergine
/g
260.0 g
0%
Knorr Professional Blue Dragon Teriyaki Marinade 1.1L
/ml
300.0 ml
0%

Soya and its derivatives
Cereals containing gluten
For Pickled Vegetables
Demerara sugar
/g
100.0 g
0%
White wine vinegar
/ml
200.0 ml
0%
Enoki Mushrooms
/g
40.0 g
0%
For the skewers:
Chestnut mushrooms

340.0 g
For Pickled Vegetables
White wine vinegar

200.0 ml
Preparation
For the skewers:

Wash the rice in a sieve until the water runs clear.
Place the sushi rice and measured water into a pan then bring to the boil then cover and reduce the heat to a simmer for 8-10 minutes until the water has evaporated. Take off the heat and set aside for 20 minutes to cool and finish cooking.
With wet hands roll the rice into twenty tight balls, allow to chill in the fridge.
Cut the spring onions in half (widthways), cut the baby aubergine and mushrooms in half.
For each skewer add 1 rice ball, mushroom, spring onion and aubergine.
Place the skewers on a lined gastronome tray and brush the vegetables and rice with the vegetable oil.
Cook in at 190c for 10 minutes or until the vegetables are cooked.
Glaze the skewers with the KNORR Blue Dragon TeriyakiMarinade then place back in the oven for 5 minutes.
To serve add on sesame seed and finely diced red chilli alongside the pickles.

For Pickled Vegetables

For pickling liquor, bring white wine vinegar, star anise and demerara sugar to boil and leave to cool.
Peel and slice mouli into thin Discs
Peel and julienne carrot.
Thinly slice Cucumber.
Cut enoki mushrooms into equal lengths
Pickle vegetables separately. The carrot and mouli can be done overnight in pickling liquor.
The Enoki Mushroom and Cucumber take 30 minutes in the same liquor.