1. Sea salted fudge and walnuts
The rich soft sweet fudge is counterbalanced in taste and texture by the bitter crunch of the walnuts.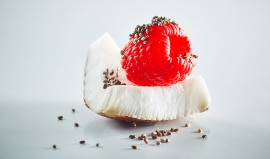 2. Chia, coconut and raspberry
Chia seeds are a natural thickener, working well in pudding. The taste is neutral and combines perfectly with rich coconut, whilst the tartness of the raspberries keeps it tasting fresh.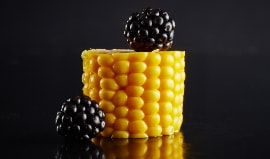 3. Sweetcorn and blackberries
Sweetcorn is perfect for baking. The sweetness of the corn nicely contrasts with tart fruits like blackberries.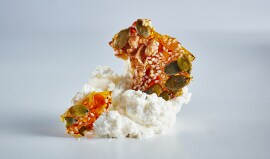 4. Ricotta maple glazed seeds and nuts
Creamy ricotta is like a white  canvas you can paint on. Adding maple syrup and then mixing in seeds and nuts gives texture and a savoury touch.

5. Polenta and mushrooms
Polenta is perfectly complemented by umami rich sautéed mushrooms.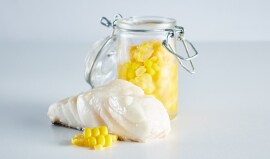 6. Fish and fermented corn
When fermented, corn takes on a sweet and sour taste and this makes an interesting flavour partner to delicate fish.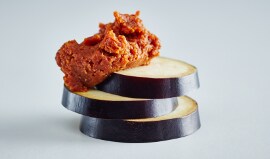 7. Miso and aubergine
Glazing umami rich miso on meaty and roasted sweet aubergine creates a classic Japanese dish.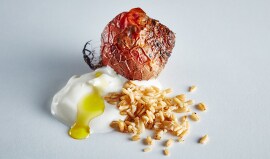 8. Roasted vegetables, gluten free oats and labneh
Root vegetables become warm, sweet and savoury when roasted. These make the perfect accompaniment to creamy fresh Labneh cheese and nutty grains.