The time to act is now and, as chefs, we can play our part in reducing our environmental impact with some simple menu tweaks.
Read on to find out more about the flexitarian diet boom and how you can make the most of it on your menu.  
What Is Flexitarianism?

This isn't vegan or vegetarianism taking over, or the beginning of the end for the meat industry. It's about choice - and opening menus up to consumers who are increasingly demanding it.
Flexitarianism is less a question of refraining from consuming certain products than of turning to other foods. In short: more fruits, vegetables, legumes, nuts and seeds, sometimes combined with meat or fish and dairy products.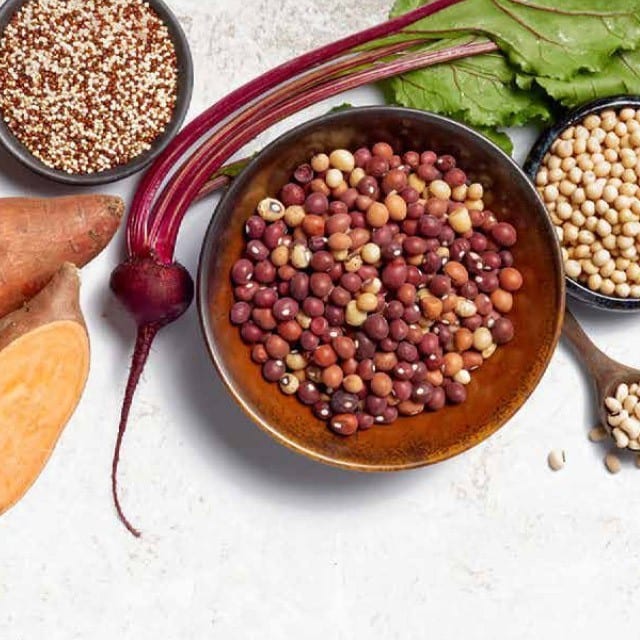 Discover The Future 50 Foods
The Future 50 Foods report, co-authored by Knorr Professional with the WWF, identifies 50 plant-based ingredients that have a positive impact on environment, by improving the diversity of the crops that we currently over-harvest globally, as well having excellent nutritional credentials.

Why Is Flexitarianism Important?
Our food choices are influenced by many aspects, such as technological progress, climate, economy, general well-being, but also our cultural and social identity. Restaurants – and your customers - are also now becoming aware of environmental issues and are increasingly moving towards more sustainable menus, reducing animal protein portion sizes, integrating more vegetables into dishes and using unusual or forgotten vegetables as the star of the show.
In this article, we'll share inspiration for your menu and dishes, including how to create dishes that use less animal protein and focus more on vegetables and plants.
In a recent statement by the Government's Environment Committee chief executive, it was recommended that humans should cut their intake of meat and dairy by a fifth to help save the planet from the increase in greenhouse gases that livestock produce2
In restaurants the demand for dishes containing more vegetables is soaring. But those who opt for vegetarian alternatives are not necessarily vegetarians. More and more consumers identify as "flexitarians" and like to alternate between meat dishes and vegetarian dishes. A study by Wageningen University & Research suggested that at least 50% of consumers will likely have adopted a vegetable- or plant-based diet by 2030.
So what will be the result of this change? A real impact on some of consumers' favourite dishes…

Tips For Adopting A Flexitarian Kitchen

Rediscover Forgotten Vegetables

Start by speaking to your suppliers and ask what's in season, they will be able to help you when it comes to creating new dishes. Try using vegetables that still provide a "meaty" or "earthy" flavour or texture like beetroot, cauliflower, portobello mushrooms, butternut squash or Jerusalem artichoke.
Add Flavourful Substitutes
Your vegetable dishes don't need to be a watered-down version of your meat dishes – there are plenty of tasty substitutes available. For example, swap the meat from curries or tagines for chickpeas, cauliflower, or squash.
Cut Your Vegetables Differently
It might sound simple, but you can create new taste and texture sensations by cutting the different vegetables in your dish in a variety of ways. Think about what vegetables would work as a "steak" or a roast "joint", such as cauliflower, sweet potato, mushrooms, or aubergine.
Colour Your Plates
Take advantage of the different colours of fresh vegetables: try heritage carrots or tomatoes, or ask your grocer for forgotten mushroom types or different beetroots.
Bet On The Diversity Of Textures
Get creative with different textures and tastes or really hero one ingredient to add more interest to your dishes. For example, try creating an assiette of beetroot with fondant, puree, pickled, crisp and sauce.
Flexitarian Dishes Are Not Confined To Plated Service
Burgers, hot dogs, tacos and wraps are all popular dishes for "food on the go" and by simply swapping out animal protein for vegetables, beans or pules you can create just as tasty dishes that your customers will identify with.
Lean On The Experts
Get inspiration from Indian, Asian or Middle Eastern cuisines where meat-free dishes have been created for centuries. Think thalis, curries, samosas, falafels, spring rolls, fresh salads and mezzes.