Beef rendang by Chris Barber
Rendang is a West Sumatran caramelised beef curry. Try the scratch version by Chris Barber or our simple alternative that helps you save time by maintaining the taste.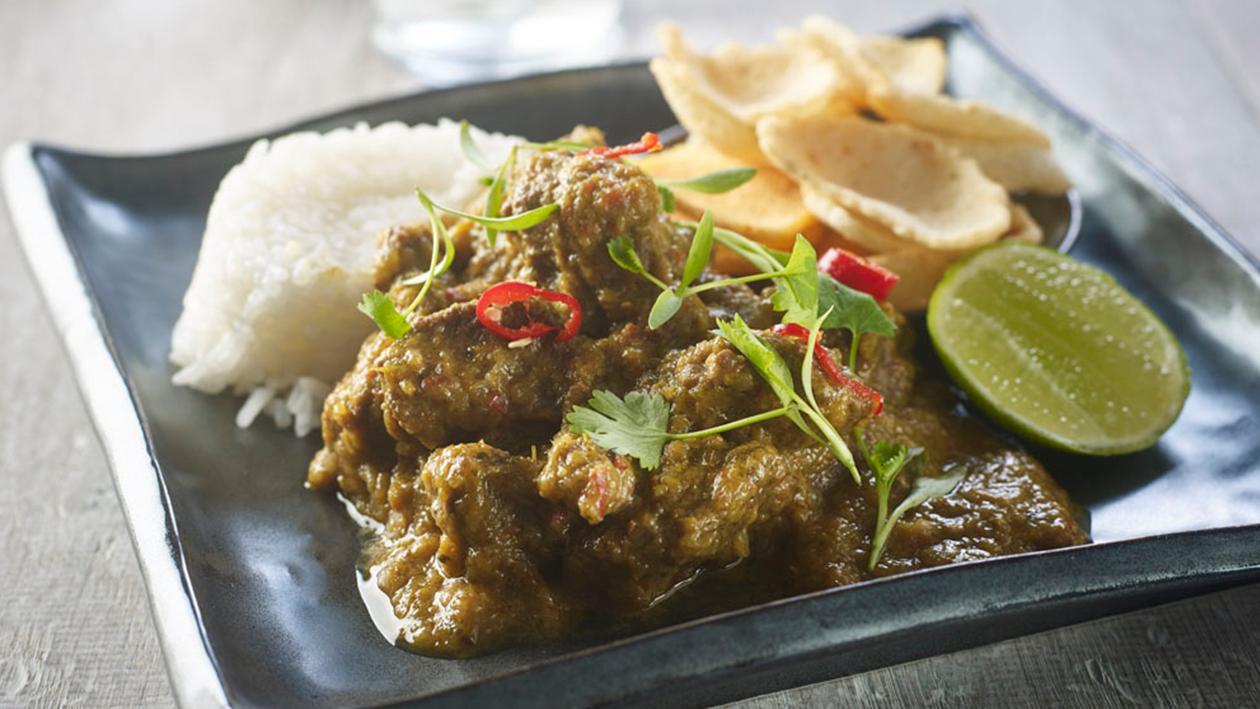 Ingredients
To make the paste:
For the curry
Beef stock (scratch)

300 ml
Preparation
To make the paste:

Trim and rinse all the ingredients then blend together into a smooth paste. Adjust seasoning to taste then cover and chill (can be frozen) until required.

For the curry

Sear beef in a hot dry pan until golden coloured then add the paste and cook out over low heat for 5-6 mins. Pour in the coconut milk and stock, bring to simmer and add lime leaves and juice. Simmer for 2 hours or until the beef is tender in a closed pan then remove lid and boil rapidly until the liquid is almost all reduced.

To serve

Check seasoning and serve with rice.
Ingredients
For the Curry sauce:
Light coconut milk

400 ml
Finishing the curry
Preparation
For the Curry sauce:

Puree the onions with a little water until smooth. Place the oil into a pan and add the KNORR Blue Dragon Thai Paste, onion puree and tomato puree and fry for 2-3 min. then add the coconut milk, water, five spice, sugar and tamarind then bring to the boil and simmer for 35-40 min. until reduced slightly.
(This sauce can be held at this stage ready for addition of vegetables and chicken to order during service.)

Finishing the curry

Reheat the curry sauce then dice the beef and simmer until just cooked. Garnish with coriander and serve with coconut rice.