Why not combine Arancini di Riso with an Italian classic? Arancini di Riso Carbonara will become the favourite meal of your guests. Use KNORR Tomato & Basil Create More Concentrated Sauce and KNORR Cheese Paste Bouillon to ensure the best taste and save valuable time and money.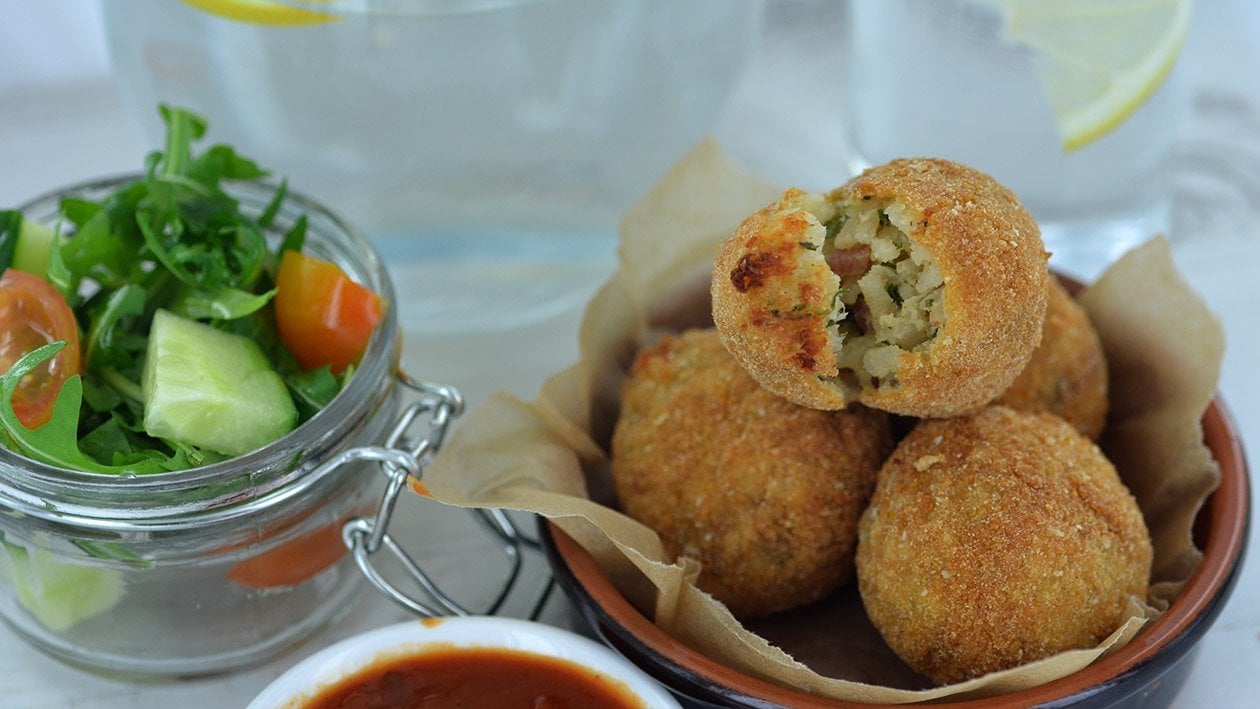 Ingredients
For the risotto
Knorr® Professional Roast Chicken Paste Bouillon 1kg

30.0 g
For the filling
For the arancini
White breadcrumbs

300.0 g

Ground black pepper

1.0 g
For service
Preparation
For the risotto

Bring the water to the boil then whisk in the KNORR Paste Bouillon.

Heat the oil then add the onions and cook for 2-3 min. Add the rice and cook for a further 2-3 min.

Add ¼ of the bouillon and cook until the rice has absorbed the liquid then repeat until the rice has softened but still has bite.

Allow to cool until needed.

For the filling

Dice the bacon then dry fry until crispy. Drain off any excess oil and allow to cool.
Chop the parsley and add to the bacon.

For the arancini

Mix the breadcrumbs and semolina together then place into a shallow tray. Crack the eggs and lightly beat then pour into a separate shallow tray and pour the flour into another shallow tray.
Mix the egg yolk, black pepper, parmesan and bacon mix into the cooked rice.




Take roughly 40g balls of the rice and roll then dip into the flour then egg and finally the breadcrumbs ensuring the rice is completely covered.
Chill until needed.

For service

Preheat a deep fat fryer to 180°C.
Carefully place the balls into the hot oil and cook for 3-4 min. or until golden brown then remove and drain on kitchen paper.
Pour the water and KNORR Tomato & Basil Concentrate sauce into a saucepan and bring to a simmer. Cook for 2-3 min. or until the sauce thickens then pour out into dip pots.
Serve 3 arancini with a portion of sauce to dip into.