Buckwheat Waffle with Sharon Fruit Compote
Gluten free buckwheat is wonderful for making waffles: airy, with a round and full whole wheat flavour and amber colour. Serve with ice cream, fruit compote and a delicious toffee sauce. You can substitute the persimmons with another fruit of choice, like mixed berries, peaches or cherries.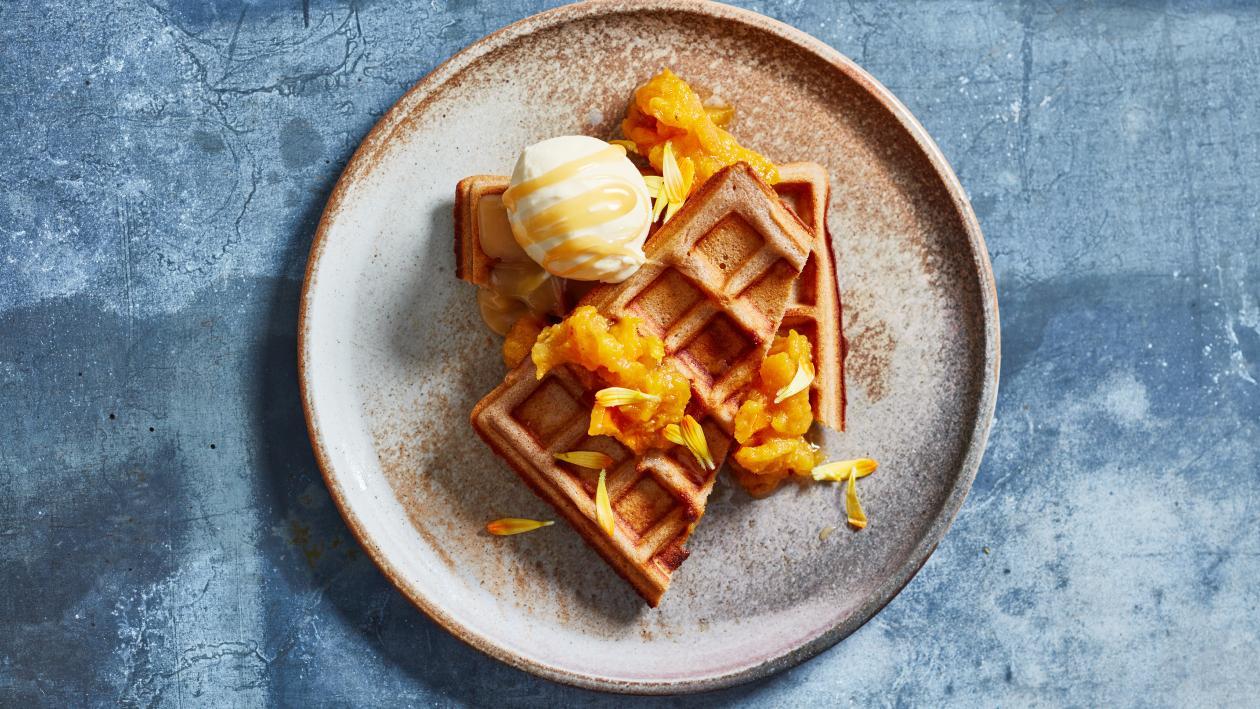 Ingredients
For the Buckwheat Waffles:
Gluten free baking powder

9 g
For the Sharon Fruit Compote:
Green cardamon powder

1 g
For the Toffee Sauce:
Light brown soft sugar

65 g
Preparation
For the Buckwheat Waffles:

Preheat the waffle iron. Melt the MEADOWLAND Professional in a pan or microwave and allow to cool slightly.

Mix the melted MEADOWLAND Professional with the milk, eggs and buttermilk.

In a bowl combine the dry ingredients. Whisk in the wet mix until a smooth batter is formed.

Grease the waffle iron with oil spray and bake the waffles in batches until golden. Keep warm.

For the Sharon Fruit Compote:

Peel and dice the Sharon fruit.
Place in a pan along with the maple syrup, lemon juice, water and ground cardamom.
Simmer gently for around 10 minutes or until the fruit is starting to break down. Add more water to adjust consistency if necessary.

For the Toffee Sauce:

Put the cream, butter and sugar in a saucepan.
Heat until melted and bubbling. Stir until a deep toffee colour and saucy consistency. Add salt to taste. Keep warm.

To Serve:

Serve the waffles warm with ice cream and the sharon fruit compote. Finish with toffee sauce drizzled over.