Crème brûlée with strawberry and mint compote
A summer dessert with an interesting history: Trinity Cream or Cambridge burnt custard was first served in the dining halls of Cambridge University in 1879 this came from the French dish commonly known as Crème brûlée. Our brûlée is served with a strawberry compote to help cut through the cream.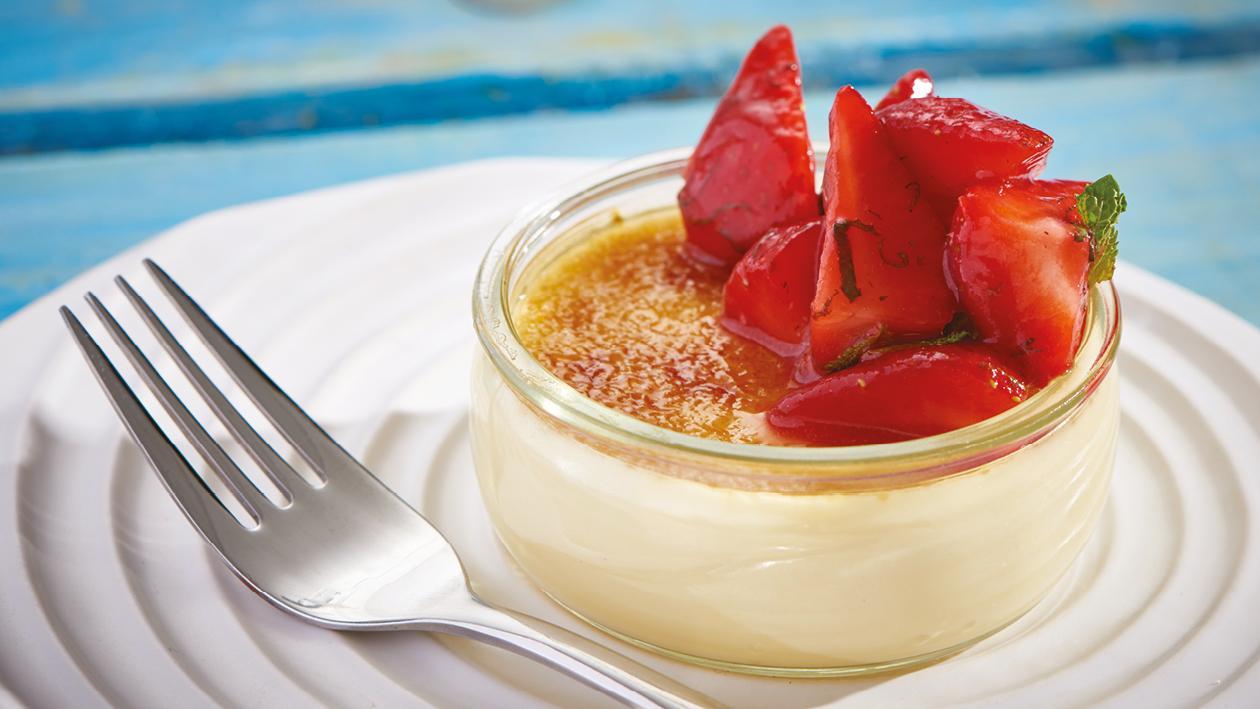 Ingredients
For the creme brulee:
MEADOWLAND Double 1L

750 ml
For the strawberry and mint compote:
Preparation
For the creme brulee:

Scrape out a vanilla pod, place the seeds and pod into a pan with the MEADOWLAND Double and heat until just below boiling point.
Remove from the heat and set aside.
In a large heatproof bowl, whisk together the egg yolks and half the sugar until pale and thick.
Place the bowl over a saucepan of simmering water then gradually pour the MEADOWLAND Double onto the eggs, stirring constantly with a spoon or spatula.
Continue to cook, stirring all the time, until the mixture thickens enough to coat the back of the spoon. Be careful not to let it boil.
Strain the mixture into the prepared ramekins, place in a water bath and bake at 120°C for 30 min. or until the mixture is set.
Remove, allow to cool then chill until required.

For the strawberry and mint compote:

Place half the strawberries into a blender with the icing sugar and blend until smooth.
Pass through a fine chinois and discard the seeds.
With the remaining strawberries cut them into large pieces and coat with the coulis.
Finely chop the mint leaves and mix through the strawberry mixture.

To finish:

Spread the brown sugar over the top of the brulee.
Using a blow torch caramelise the sugar so a crisp layer is formed.
Garnish with the strawberry and mintcompote.