Crispy duck breast with glazed butternut squash and orange star anise sauce
Surprise your guests with this fruity version of duck breast with butternut squash and orange star anise sauce. It is fast to prepare and most importantly, it is a tasty option for your gluten free customers.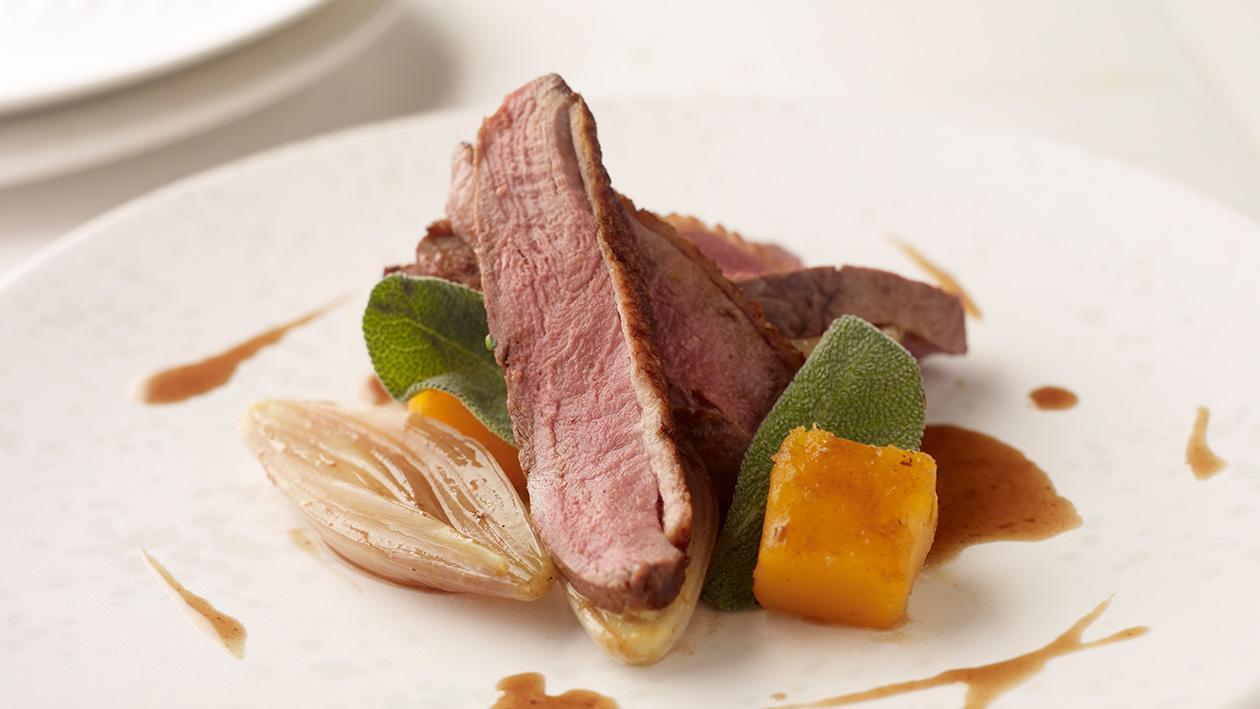 Ingredients
For the Duck:
Duck breast, skinless

600 g
For the Glazed Butternut Squash:
MEADOWLAND Professional 250g

30 g

KNORR Professional Thyme Puree 750g

10 g
For the Sauce:
KNORR Gluten Free Beef Gravy Paste 25L

37 g
Preparation
For the Duck:

Place the duck breasts skin side down on a cold heavy frying pan.
Cook on a high heat for about five min. or until the skin is crisp.
Turn the breasts over and reduce the heat.
Cook for further three to five min. for pink meat.
Cook longer for medium or well done meat.

For the Glazed Butternut Squash:

Place the butternut squash, shallots and bacon in a bowl and add the orange and lime juice, olive oil, honey, butter, sage and thyme.
Season with sea salt and cracked black pepper.
Toss all the ingredients together and spread on a roasting tray.
Bake in a preheated oven at 180ºC for about 15 to 20 min. or until tender.

For the Sauce:

Heat the sugar and vinegar until it caramelises, forming a brown caramel.
Add the orange juice, star anise and KNORR Gravy Paste and simmer for five min.
Strain and add the orange zest.

To Serve:

Allow the duck breasts to rest.
Carve the breasts lengthways.
Spoon the squash onto serving plates, place the duck on top with the rocket leaves and drizzle with olive oil.
Garnish with star anise sauce.