Escalope of Pork fillet with apple and calvados and roasted parsnips (GF)
Create a Gluten free version of this tasty pork main dish! Consistency and taste are key - KNORR ingredients will help you to deliver a perfect dish to your guests.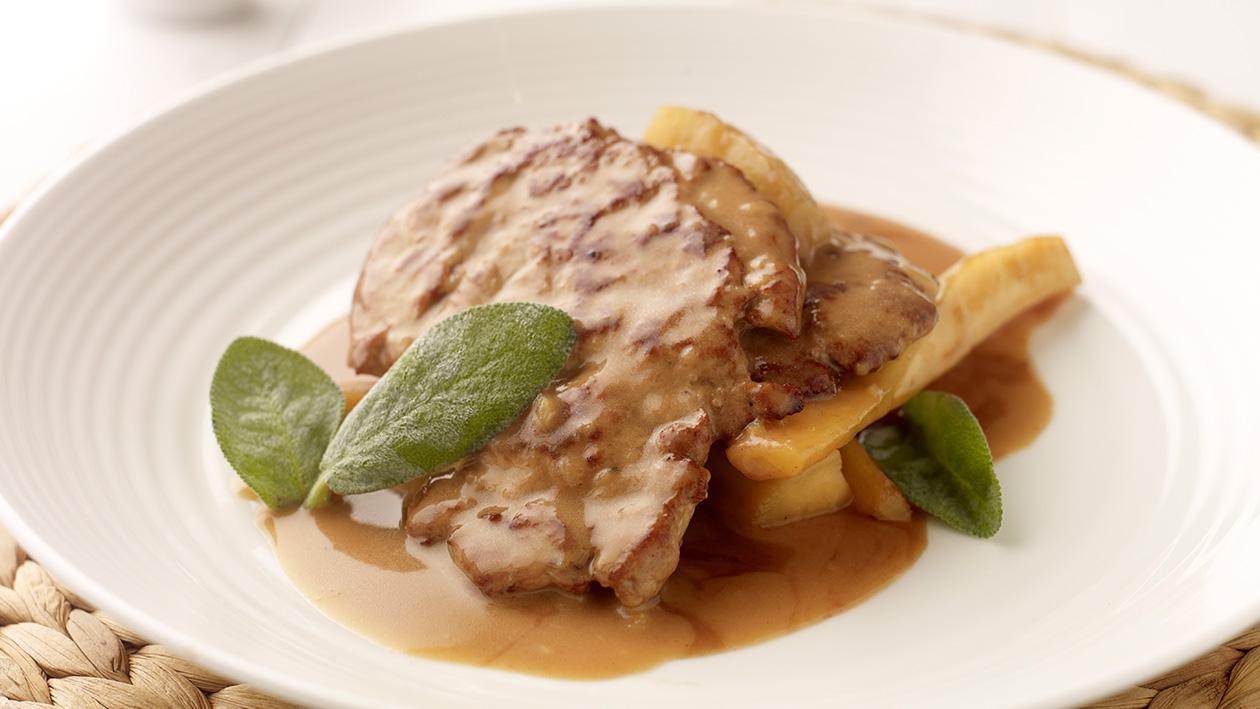 Ingredients
Roast the parsnips
MEADOWLAND Professional 250g

25 g
To prepare the pork escalope.
To prepare the Apple and calvados sauce.
KNORR Beef Gravy Paste 2 x 25L As consumed

150 g

MEADOWLAND Double 1L

50 ml
Preparation
Roast the parsnips

Place the parsnips in a roasting tray with the honey, sage, MEADOWLAND professional 250g and lemon, season with a little optional salt and pepper.
Place into a preheated oven at 180°C for 15 min. to 20 min.
Add a little water to the tray if the parsnips start to dry our during cooking.

To prepare the pork escalope.

Cut each pork fillet in half and flatten between two sheets of cling film.
On a hot pan, add a little MEADOWLAND Professional 250g.
Place the pork escallops onto the pan and turn down the heat.
Sauté for 4 to 5 min. until the pork is cooked.

To prepare the Apple and calvados sauce.

Bring 1 litre of water (or stock) to a gentle simmer, add 75g of KNORR gravy paste and whisk, simmer for 2 min. until the gravy starts to thicken.
Add the shallots and apples and simmer for a few minutes.
Add the calvados along with the MEADOWLAND cream alternative.
Bring to a gentle simmer then add the Chopped chives.

To serve.

Place the parsnips onto a warmed plate, cover with the cooked pork escalope, then dress with a portion of sauce.