Frozen cardamom and passion fruit meringue roulade
This dessert recipe is the perfect delight for your guests in the summer season. A frozen meringue roulade, filled raspberries, passion fruit and cardamom MEADOWLAND double cream will complete your menu.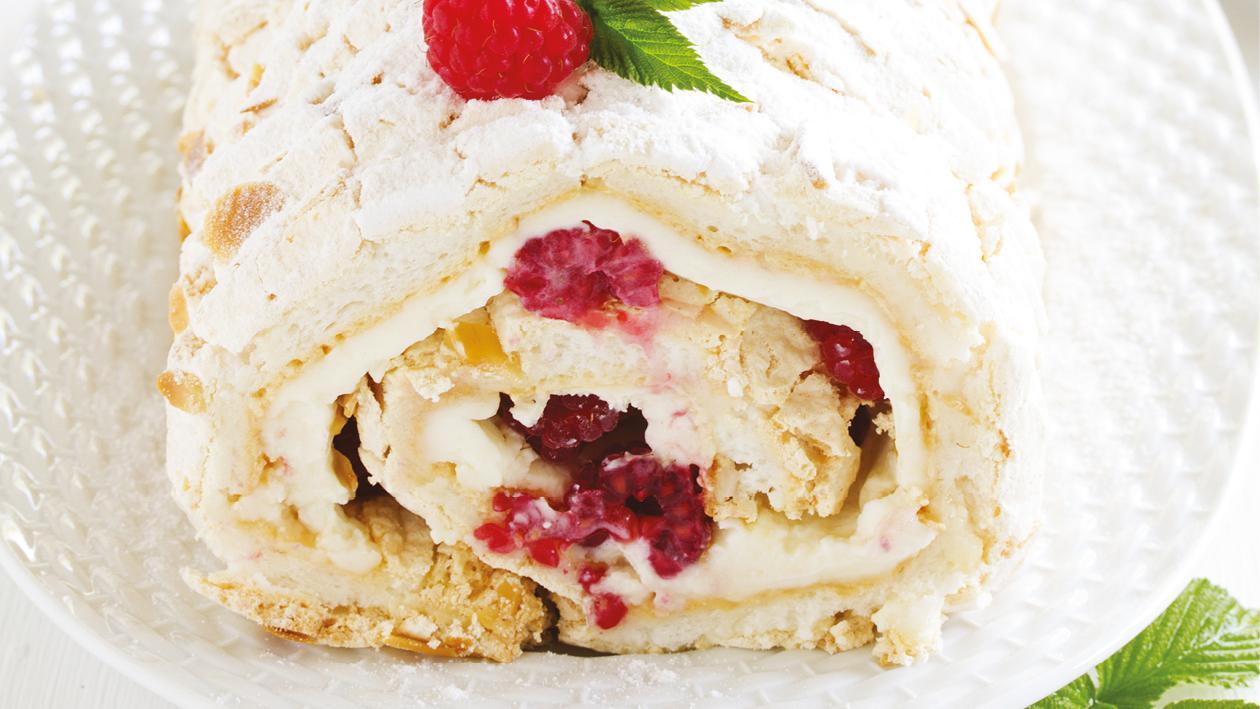 Ingredients
For the meringue roulade:
For the Passion fruit:
Passion fruit (flesh and seeds only)

100 g
For the cardamom cream:
MEADOWLAND Double 1L

300 ml

Green cardamon powder

2 g
To build:
Preparation
For the meringue roulade:

Place the egg whites into a machine with a whisk attachment.
Whisk until firm peaks are achieved.
Slowly add in the caster sugar a little at a time until the sugar is fully incorporated.
Line a flat gastronorm tray with a silicon mat or greaseproof paper.
Spread a thin layer of the meringue mix on to the tray.
Bake at 130°C for 12 min. the roulade is ready when it springs back under light pressure.
Place a sheet of greaseproof paper on the side and dust with half the icing sugar.
Turn the meringue out on to the greaseproof and leave for 5 min.
Remove the silicon mat dust the remaining icing sugar on the meringue.

For the Passion fruit:

Add the flesh and seeds to a pan and bring to the boil.
In a bowl mix the cornflour with a table spoon of water.
Pour the cornflour mix into the pan and stir until the passion fruit mix thickens slightly.
Remove from the heat and allow to cool.

For the cardamom cream:

Whisk the MEADOWLAND Double, condensed milk and cardamom powder to stiff peaks.

To build:

Remove the silicon mat from the meringue.
Spread an even layer of the passion fruit over the top.
Spread over the cardamom cream and cover with crushed raspberries.
From the long side of the roulade roll over the long edge using the greaseproof as leverage to keep it as a tight roll.
Once rolled, place into a freezer for 4 hours and allow to freeze.
Serve with fresh raspberries and mint.