Gluten Free Confit Duck Crepe
This crepe recipe can be made with various fillings, savoury or sweet. This version is topped with tender pieces of confit duck and charred baby gem and orange segments.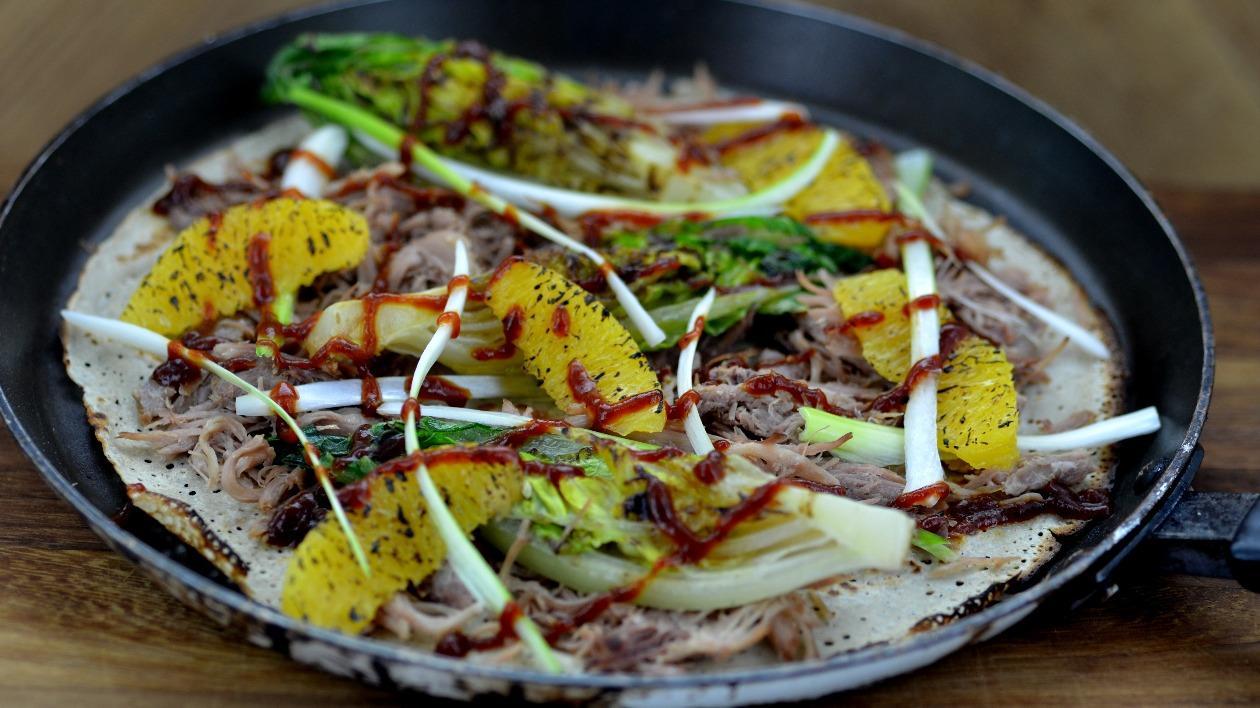 Ingredients
For the Confit Duck:
Duck legs with skin

1.6 kg
For the Crepe:
For the Orange Barbecue Sauce:
For the Grilled Baby Gem:
To Serve:
Preparation
For the Confit Duck:

Preheat the oven to 140c.
Trim the duck legs of excess skin then place in a deep oven tray. Cover with the oil and add the rosemary sprigs, garlic cloves and an orange sliced in half.
Cover the tray with foil and place in the preheated oven and cook for 3 hours or until the neat falls of the bone.
Remove the legs from the oven and drain off the excess oil. Allow to cool slightly, then flake the meat from the bone and keep warm until required. Discard the skin and bone.

For the Crepe:

For the pancakes, sift the flour and salt into a mixing bowl, then add the eggs and mix well. Add the milk and water then beat well until smooth and well combined.
To cook the pancakes, heat a small amount of oil in a large frying pan, pour in a ladleful of batter and swirl around until it thinly covers the base of the pan. Fry for about a minute until the underside is set and beginning to turn golden-brown. Turn over using a spatula and cook the other side. Repeat this process until you have at least 10 crepes. Set aside until ready to serve.

For the Orange Barbecue Sauce:

Whisk the orange juice and KNORR Barbecue Sauce until evenly combined.

For the Grilled Baby Gem:

Cut the baby gem lettuce into quarters, mix with the oil and grill on a griddle pan until charred and almost cooked through. Keep warm

To Serve:

Segment the oranges and blow torch or under a hot grill until charred.
Shred the spring onions.
Gently re-heat the crepes in an oven until hot.
To arrange the crepe; place the crepe on the bottom and top with the warm confit duck, shredded spring onions, charred baby gem, orange segments and orange barbecue sauce.

Disclaimer: It is the operator's responsibility to ensure that the end dish is gluten-free in accordance with the regulatory requirements and check all ingredients to ensure they are gluten-free. For further guidance please download our Gluten-Free Kitchen Guide.