Lemon & thyme roast chicken
This simple roast chicken dish gets its special twist with the lemon and thyme flovour of the gravy. The herbs are bringing additional flavour to it and it goes well with different selections of vegetables.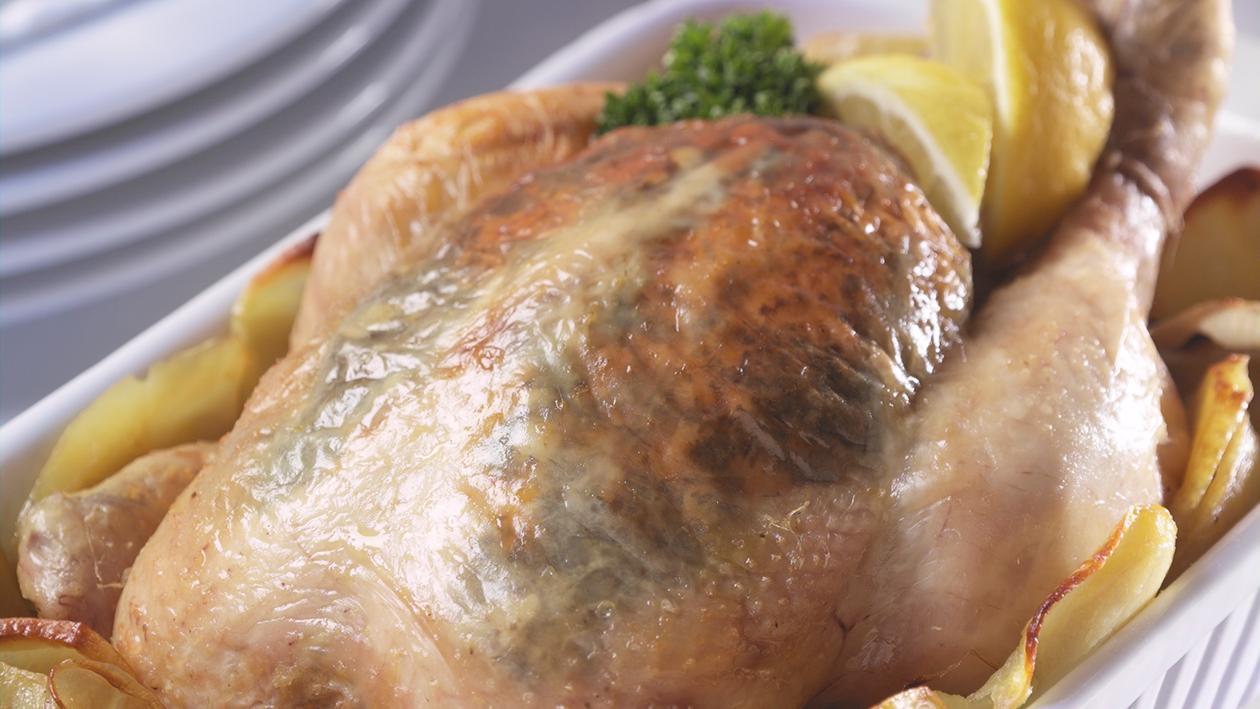 Ingredients
To prepare the chicken
Potatoesthinly sliced

450 g

Onionsthinly sliced

150 g

Whole chicken (free range)

1.6 kg

Lemoncut into wedges

1 pc
To roast the chicken and prepare the gravy
Preparation
To prepare the chicken

Prepare the KNORR Jelly bouillon by mixing with 500ml of simmering water until dissolved.
Zest the lemon, then cut into 4 wedges (reserving the wedges for use later in the recipe).
Combine the FLORA Original with the garlic, lemon zest and herbs.
Carefully loosen the skin of the chicken over the breast, smear with the lemon and herb mixture inside the chicken skin, press gently to remove and air pockets.
Layer the potatoes and onions in a shallow ovenproof dish, large enough to hold the chicken, then add the prepared bouillon.
Place the lemon wedges into the chicken cavity.
Place the prepared chicken onto the potatoes and onions.

To roast the chicken and prepare the gravy

Roast the chicken in a preheated oven (180⁰C) for about 1 hour 45 min. until thoroughly cooked.
Take the cooked chicken out of the oven and drain off the liquid and excess fat from the potato and onion mix.
Skim any excess fat from the top of the cooking liquor, pour the remaining liquor into a measuring jug and make up to 850ml with water.
Bring the cooking liquor to a gentle simmer in a suitable saucepan, whisk in the KNORRpoultry gravy granules.

To serve the chicken

Serve the chicken by either slicing into portions or sectioning the wings legs and breasts into portions.
Serve with the gravy and a selection of vegetables.