Piri piri flat bread with lime roasted prawns
A tear and share spiced bread using the Knorr Piri Piri Paste as the base for this flat bread. Served with lime roasted prawns.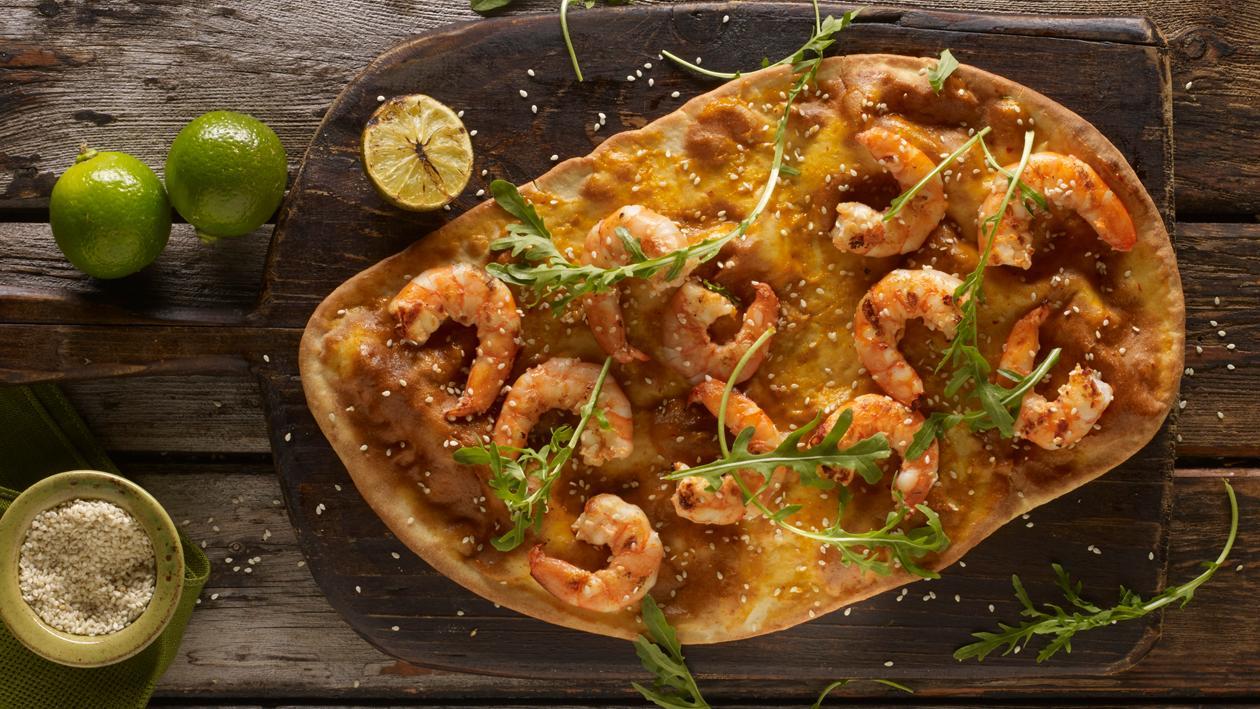 Ingredients
For the flat breads:
For the lime roasted prawns:
To serve:
Preparation
For the flat breads:

Add the flour, semolina,salt, sugar and dried yeast to machine bowl with a dough hook attached and mix thoroughly.
With machine running slowly, add the olive oiland warm water until a smooth dough has been achieved.
Mix for a further 5 minutes.
Add the dough to a lightly oiled bowl and cover with cling film, and place in a warm place for approx. 30 minutes or until the dough doubles in size.
Divide the mix into 2 pieces.
Roll out each piece on a floured surface, shapinginto a random size thin enough to roughly fill a gastronorm tray.
Bake for 10 minutes at 200c, then remove from the oven and coat with the KNORR Piri Piri Paste.
Place back in the oven and cook for a further 3-5 minutes or until the base if fully cooked.

For the lime roasted prawns:

Devein the prawns.
Cut one of the limes into quarters and the other in half.
Place a frying pan on a high heat and add the oil.
Add the prawns to the pan along with the lime quarters and cook until golden and cooked through.
Remove from the heat.

To serve:

Gently toast the sesame seeds.
Place the warm Piri Piri flat breads onto a wooden board to serve.
Garnish with the roasted prawns, toasted sesame seed and some rocket leaves to finish.