Rosewater Panna cotta with green tea shortbread
Great for the summer season for your food business: classic shortbread flavoured with PG Tips green tea. Enjoy with a biscuit or rosewater panna cotta.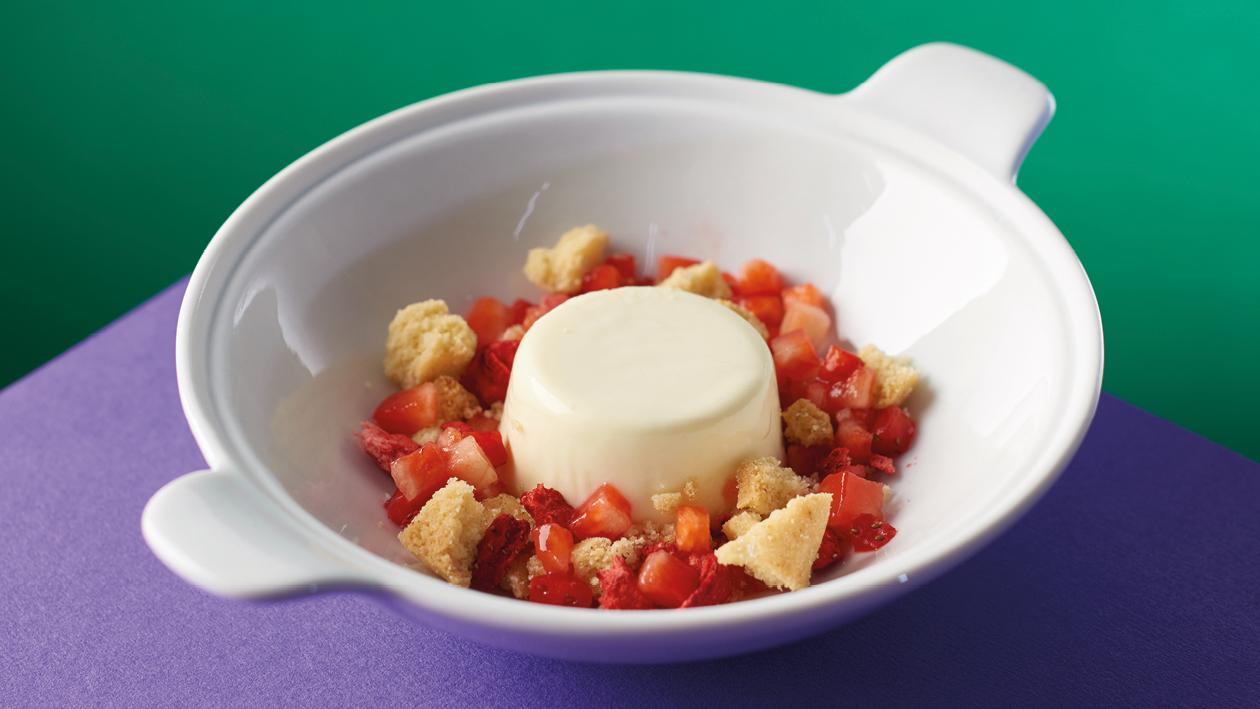 Ingredients
PG Tips Green tea sugar:
PG Tips Green Tea - 1 Tea Bag
For the shortbread:
MEADOWLAND Professional 250g

130 g
For the rose water panna cotta:
MEADOWLAND Double 1L

750 ml
To serve:
Preparation
PG Tips Green tea sugar:

Decant the contents from the PG tips Green Tea bag into a blender along with the caster sugar.
Blend until the sugar resembles icing sugar and the tea gets finer than before.

For the shortbread:

Place the MEADOWLAND Professional, PG tips Green Tea sugar, plain flour and cornflour in a machine and beat together until a smooth dough is formed.
Place this dough between 2 sheets of greaseproof paper and roll out to 1 cm in thickness.
Hill the dough for 30 min. prior.
Bake at 150°C for approximately 12 min. until the shortbread has a sandy colour.
Remove from the oven and allow to cool.
Once cool break into small random pieces to garnish the panna cotta.

For the rose water panna cotta:

Place the MEADOWLAND Double into a pan with the rosewater and bring to the boil.
Whilst the MEADOWLAND is warming place the gelatine leaves into cold water and allow to bloom.
Whisk in the gelatine once the cream is at temperature and ensure it is fully incorporated.
Remove from the heat and pour into moulds.
Allow to chill and set for approximately 6 hours.

To serve:

Finely dice the strawberries.
De-mould the panna cottas and place in the center of the plate.
Add a small amount of the diced strawberries around the outside of the panna cotta then do the same with the PG Tips Green Tea shortbread pieces.