Velvet chicken with Bok Choi and sweet and sour sauce
This simple, tasty, Asian inspired main course dish is a favourite among guests. Try out our easy recipe and bring some Asian flavour to your kitchen.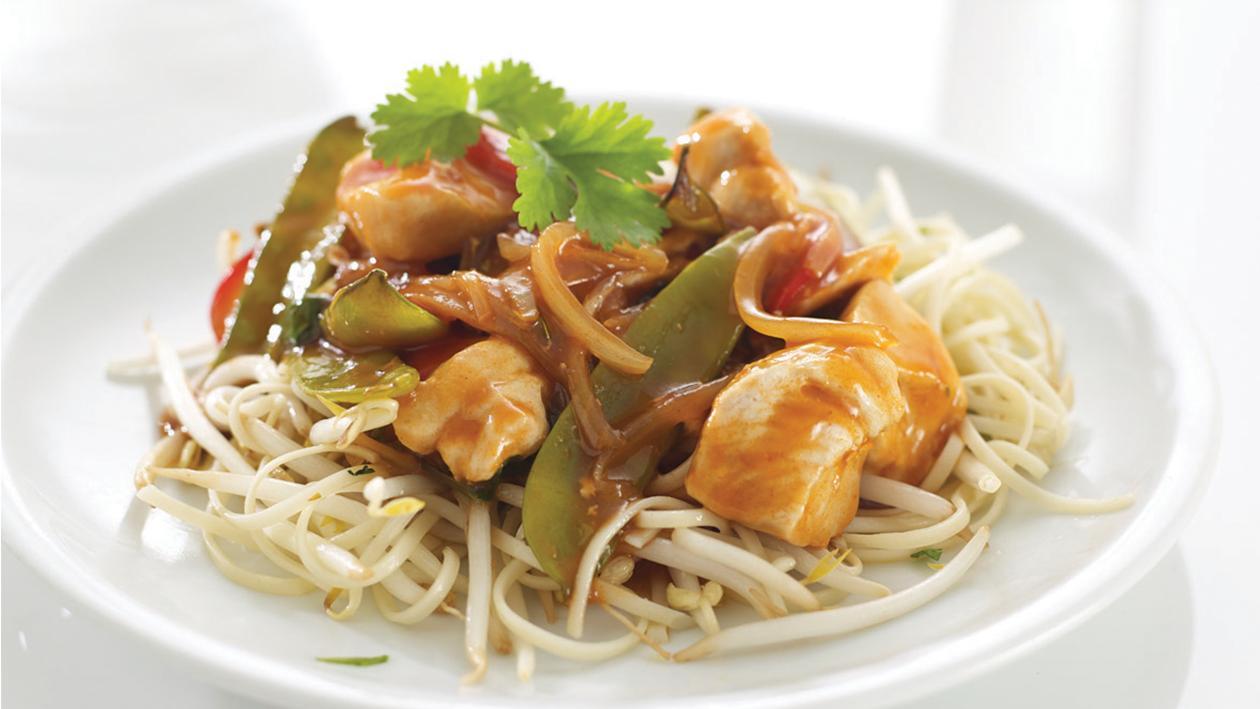 Ingredients
For the Chicken
Chicken breast, skinless

800 g
For the Sweet & Sour sauce
Light brown soft sugar

10 g
For the Stir fry
Pineapple, tinned in juice

50 g
Preparation
For the Chicken

Method: (prep time 40 min.)
Make the velveteen marinade: (prep time 20 min.)
In a bowl combine the cornflour, salt, pepper, wine and egg whites and mix to form a smooth white paste. Add the sliced chicken making sure the chicken is covered with the marinade. Leave to marinate for 20 min.

For the Sweet & Sour sauce

In a bowl, combine the pineapple juice, vinegar, dark soy sauce and sugar and mix until you have a smooth paste.

For the Stir fry

Add the oil to a wok and heat until very hot. Drain the chicken of any excess velvet marinade and stir-fry until the chicken for a few seconds until it looses its raw appearance but has no colour other than white. Add the vegetables and stir fry for a further minutes.
Add the sauce (Prep time 5 min.):
Pour the sauce mixture into the hot wok stirring constantly, the sauce will thicken as it heats up. Stir together and bring to a full boil, ensure the chicken is thoroughly cooked, serve immediately with a rice or noodles.