White chocolate cookie sandwich with basil ice cream
The hand held dessert is great for hot summer days. And to prevent you from sweating in the kitchen, this recipe is fast and easy to prepare with the help of MEADOWLAND Double and MEADOWLAND Professional.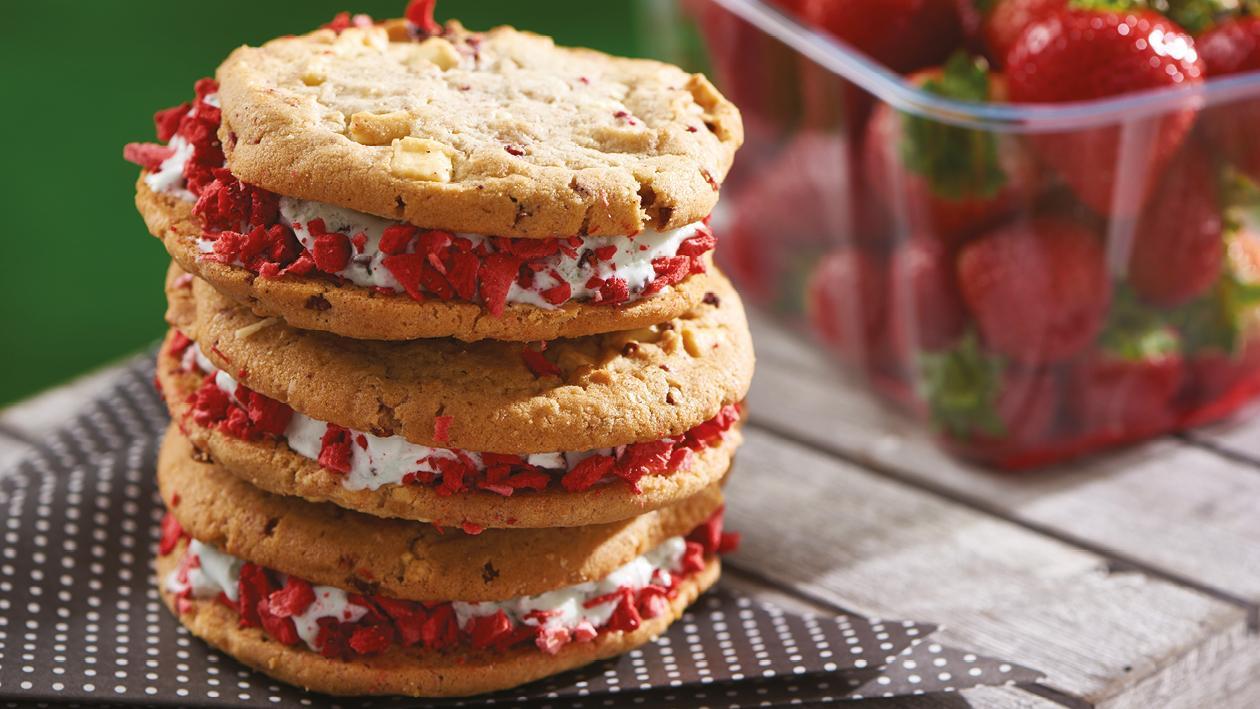 Ingredients
For the basil ice cream:
MEADOWLAND Double 1L

500 ml
For the white chocolate cookies
MEADOWLAND Professional 250g

175 g
To make the cookie sandwiches:
Preparation
For the basil ice cream:

Put the egg yolks and sugar in a bowl.
Place the MEADOWLAND Double and basil into a saucepan.
Bring the mixture to the boil gently so the mix doesn't catch on the base of the pan.
Whilst this is coming to temperature whisk the egg yolks and sugar together.
Pour on the hot MEADOWLAND and whisk together.
Place the combined mixture back on to a gentle heat and stir continuously.
Once the mixture has thickened and coats the back of a spoon remove from the heat.
Put the mixture into an ice cream machine and churn until set.
Remove from the machine and store in the freezer until required.

For the white chocolate cookies

Place the MEADOWLAND Professional, caster sugar, soft brown sugar in to a machine and mix together.
Add in the egg and beat together.
Once fully incorporated add in the plain flour and baking powder and mix through.
Add in the white chocolate callets and dried strawberry and mix again.
Place this mixture into a fridge and allow to cool for 20 min.
Take the mixture out of the fridge then make into 20 even sized balls.
Place these balls with good space between them onto a baking tray.
Cook at 170°C for 12 min. or until golden in colour.
Remove from the oven and allow to cool on a cooling wire.

To make the cookie sandwiches:

Turn 10 of the cookies on to their top and place a ball of the basil ice cream on top of each cookie.
Sandwich the ice cream with the remaining cookies.
Press these together so the ice cream comes to the side of the sandwich.
Roll these in crumbed dried strawberries to form a collar on the cookie sandwich.