Arancini are said to have been introduced to Sicily by the Arab invaders who also brought rice to the island in the 10th century. Introduce this traditional italian dish to your pub business with this tasty recipe. Ensure fast preparation and perfect taste with KNORR Paste Bouillon and KNORR Tomato & Basil Create More Concentrated Sauce.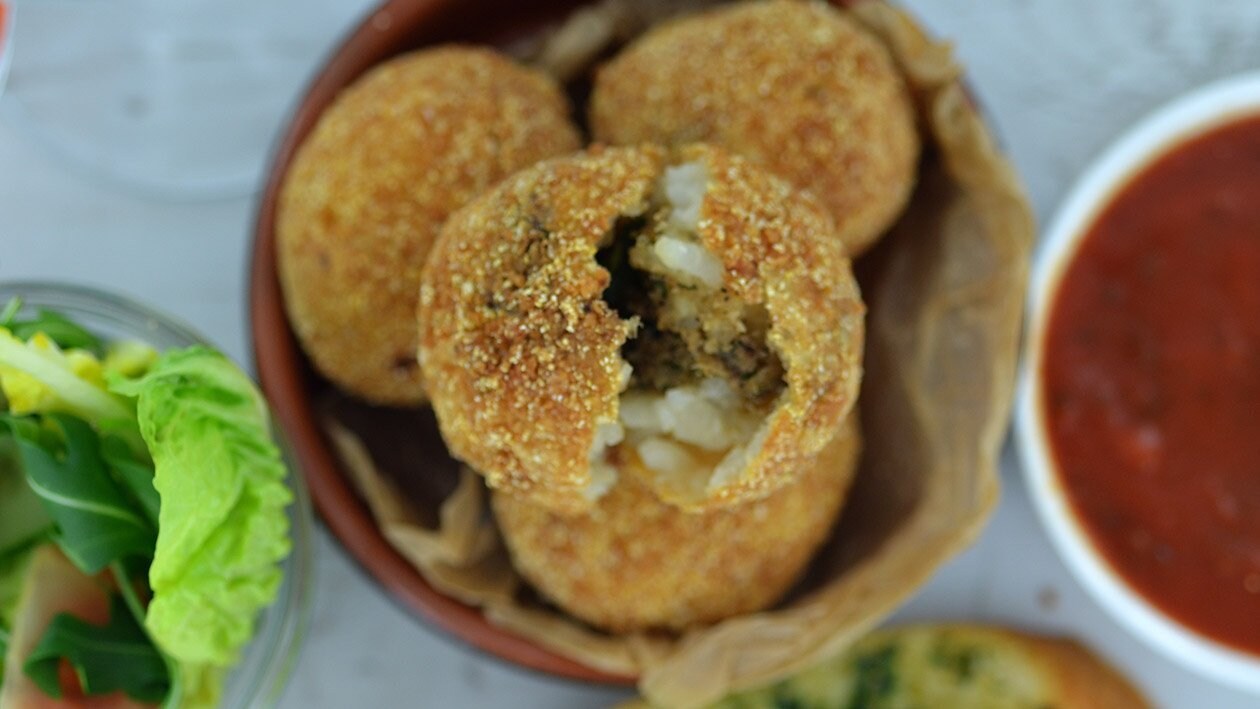 Ingredients
For the risotto
For the filling
For the arancini
White breadcrumbs

300.0 g
For service
Preparation
For the risotto

Bring the water to the boil then whisk in the KNORR Paste Bouillon.
Peel and dice the onions.
Heat the oil then add the onions and cook for 2-3 min. Add the rice and cook for a further 2-3 min.
Add ¼ of the bouillon and cook until the rice has absorbed the liquid then repeat until the rice has softened but still has bite.
Allow to cool until needed.

For the filling

Cut the florets from the cauliflower and place into a roasting tray.
Drizzle with the oil then bake for 20-25 min. at170°C.
Remove and allow to cool then place into a blender and pulse until finely chopped then pour into a bowl.
Chop the parsley and capers together then add to the cooled cauliflower mix along with the lemon zest. Mix well.

For the arancini

Mix the breadcrumbs and semolina together then place into a shallow tray. Crack the eggs and lightly beat then pour into a separate shallow tray and pour the flour into another shallow tray.
Spread the cauliflower mix over half of the chilled rice then fold the remaining rice over on top to create a sandwich.
Take roughly 40g balls of the rice and roll then dip into the flour then egg and finally the breadcrumbs ensuring the rice is completely covered.
Chill until needed.

For service

Preheat a deep fat fryer to 180°C.
Carefully place the balls into the hot oil and cook for 3-4 min. or until golden brown then remove and drain on kitchen paper.
Pour the water and KNORR Tomato & Basil Concentrate Sauce into a saucepan and bring to a simmer. Cook for 2-3 min. or until the sauce thickens then pour out into dip pots.
Serve 3 arancini with a portion of sauce to dip into.