Jamaican jerk patties
These Jamaican jerk patties work well as finger food and are very spicy and rich in flavour. Try out our KNORR Jamaican Jerk Paste for the special taste. You can serve the patties as starters or as  a main dish.

Beef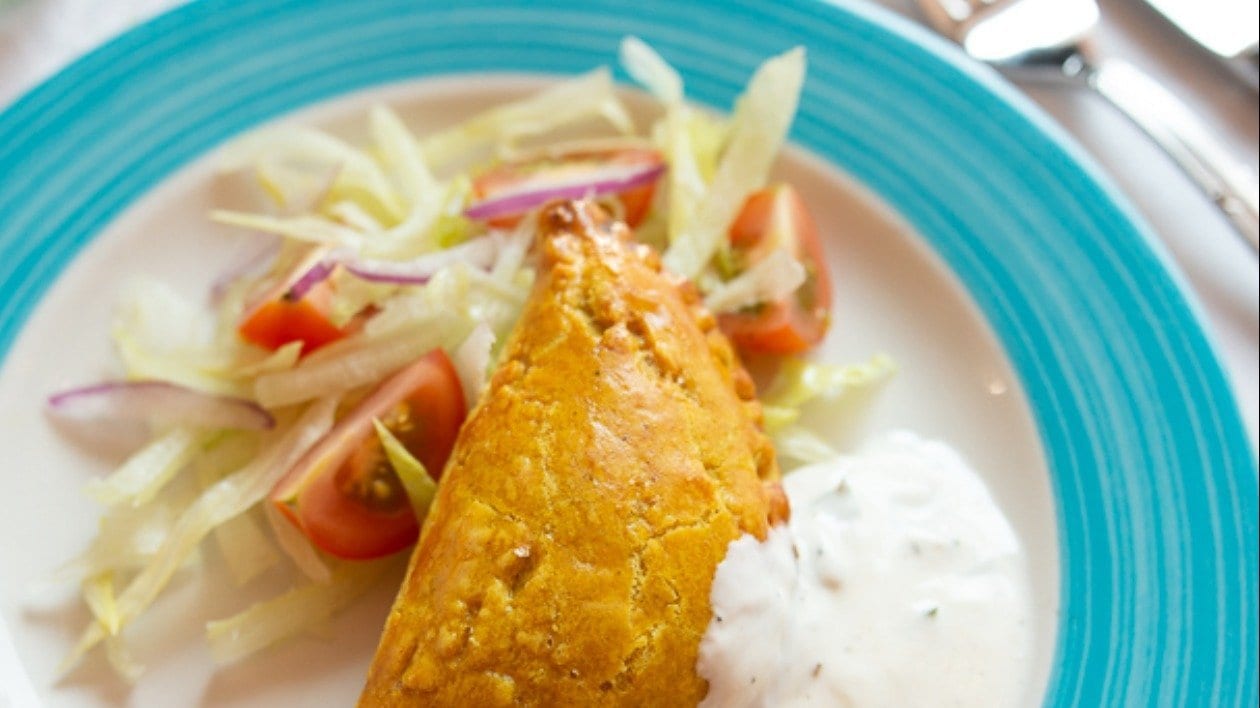 Ingredients
Jamaican jerk patties
For the jerk paste dough:
Plain flour
/g
275.0 g
0%
KNORR Jamaican Jerk Paste 1.1 kg
/g
50.0 g
0%
Patty filling:
Minced beef
/g
320.0 g
0%
Ground black pepper
/g
3.0 g
0%
Curry powder medium
/g
6.0 g
0%
White breadcrumbs
/g
60.0 g
0%
KNORR Professional Beef Jelly Bouillon 800g
/g
5.0 g
0%
Green Chillies
/g
3.0 g
0%
For the jerk paste dough:
KNORR Jamaican Jerk Paste 1.1 kg

50.0 g
Patty filling:
Ground black pepper

3.0 g

Curry powder medium

6.0 g
Preparation
Advance Preparation:

Preheat the oven to 180°C.
Finely dice the onion, celery and tomatoes.
Make the Knorr Beef Jelly Bouillon with the water and stock as per the recipe.

For the jerk paste dough:

Put the plain flour, diced butter into a mixer and start to mix until a breadcrumb texture has been achieved.
Add in the turmeric and KNORR Jamaican Jerk Paste and keep mixing.
Slowly add the water until a smooth dough has formed.
Clingfilm the dough and allow to rest in the fridge.

Patty filling:

In a suitable pan dry fry the beef mince until lightly browned and the meat is separated.
Then add the onions, celery, KNORR Professional Ginger Puree and KNORR Professional Garlic Puree then cook until the vegetables are soft.
Add in the ground pepper, curry powder, thyme, KNORR Professional Paprika Puree, tomatoes and thyme.
Cook this until the tomatoes have softened.
Add in the breadcrumbs and beef bouillon and cook.
Reduce the liquid until it binds the meat add in the chilli and remove from the heat.
Cool the mixture ready to fill the patties.

Making the patties:

Roll out the pastry on a lightly floured surface or between 2 sheets of greaseproof paper to 0.5cm thick.
Cut into 10cm rounds, reform the dough and cut again, repeat this until there is no dough left.
Take 1 dessert spoon or approx. 25g of the patty meat and place in the middle of each circle of pastry.
Fold the pastry over forming a half circle and crimp with a fork.
If needed glue the pastry with a little water.
Once all have been crimped place on a lined baking sheet.
Make a small slit in the top of each patty.
Bake at 180°C for 12-15 min. or until golden brown and the filling has reached the correct core temperature.