Vegetable Thoran
Thoran is a typical Kerala cuisine dish where shredded or finely chopped vegetables are stir fried with grated coconut.

Plant Based
Main courses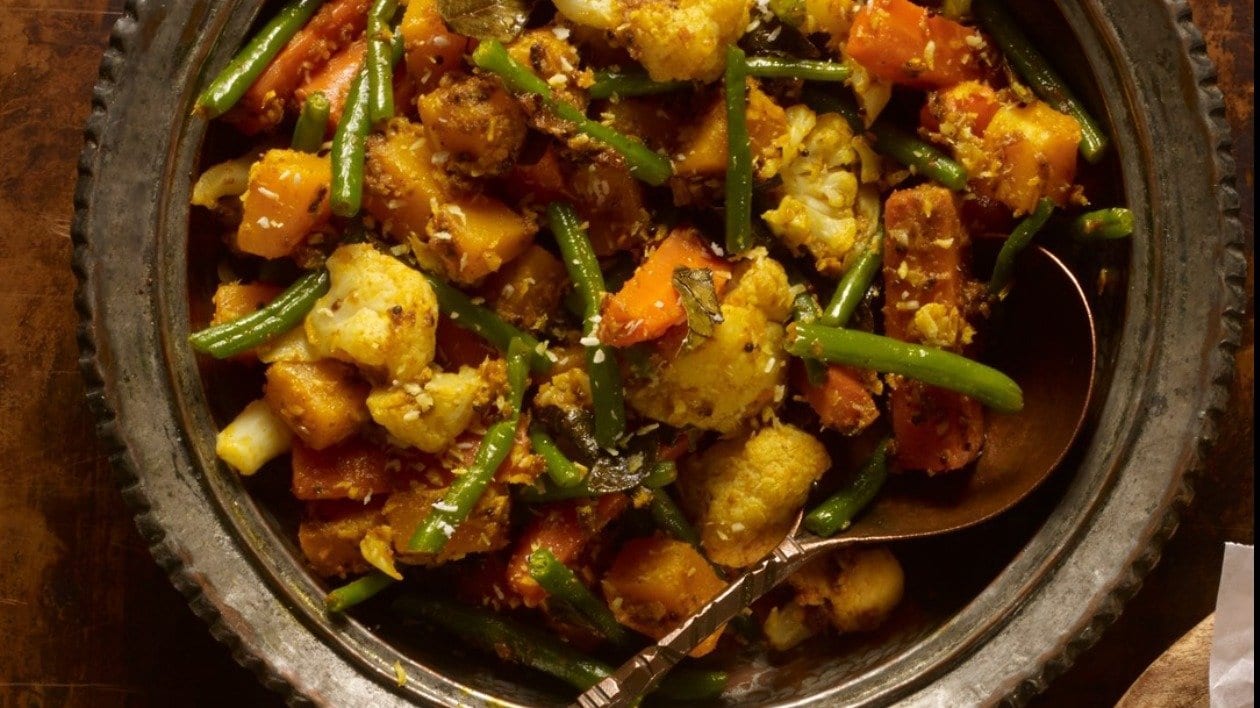 Ingredients
Vegetable Thoran
For the vegetables:
Cauliflower
/g
300.0 g
0%
Butternut Squash
/g
300.0 g
0%
Green beans
/g
300.0 g
0%
To serve:
Vegetable oil
/ml
50.0 ml
0%
Mustard seeds
/g
5.0 g
0%
Knorr Professional Patak's Korma Paste 1.1kg
/g
70.0 g
0%

May contain nuts and their derivatives
Mustard and its derivatives
Dessicated Coconut
/g
15.0 g
0%
Lemon juice
/ml
15.0 ml
0%
Caster sugar
/g
15.0 g
0%
For the vegetables:
To serve:
Dessicated Coconut

15.0 g
Preparation
For the vegetables:

Peel and cut the carrot and butternut in to batons, cut the cauliflower in to florets and cut the green beans in half.
Blanch the vegetables for 3-4 minutes until just soft then remove and drain well.

To serve:

Heat oil then add black mustard seeds and curry leaves and allow to crackle. Add the KNORR Professional Pataks Korma Paste and water and allow to simmer until the water evaporates. Add the vegetables in to the pan and stir-fry with the coconut, lemon juice and sugar. Cook the vegetables for 5 minutes, if the spices stick add a little more water. Remove from the heat and serve.