Bourbon Glazed Brisket
Allow to brisket to marinade with the garlic & paprika for 2 hours to give a deeper flavour.

Beef
Main courses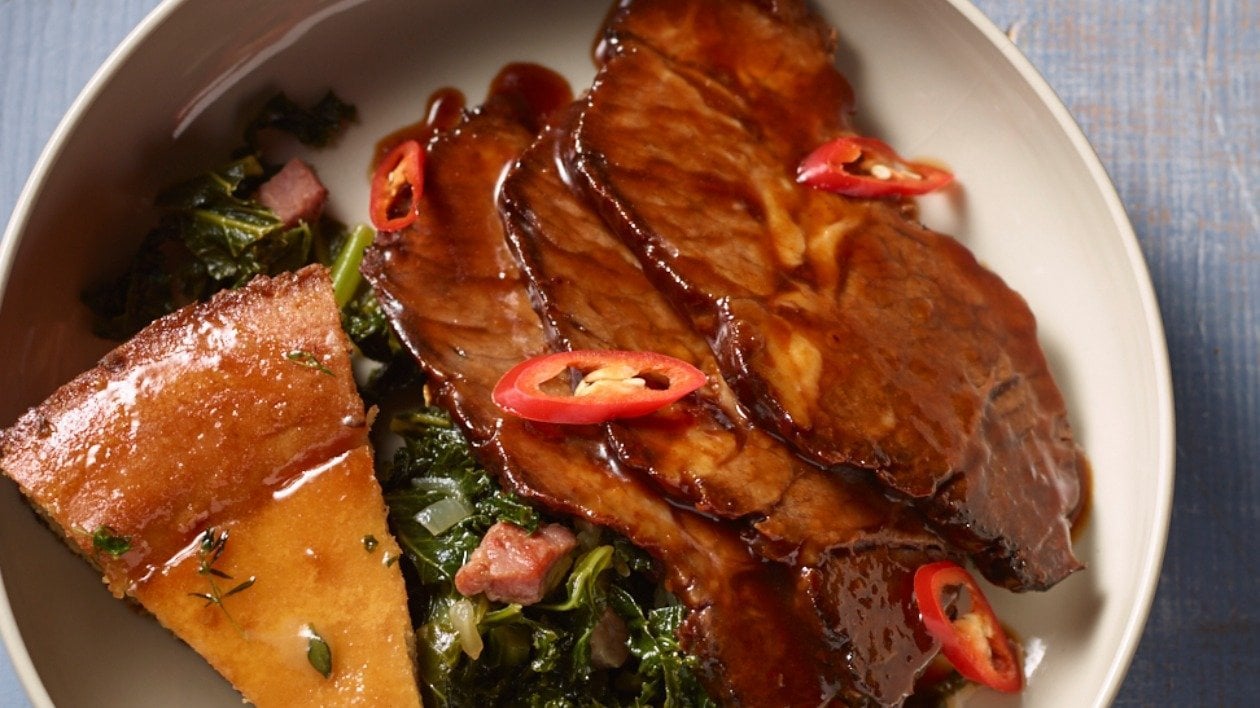 Ingredients
Bourbon Glazed Brisket
For the marinade:
Beef Brisket
/kg
2.5 kg
0%
KNORR Professional Beef Jelly Bouillon 800g
/g
25.0 g
0%
For the Brisket:
Rapeseed oil
/ml
50.0 ml
0%
KNORR Barbecue Paste 1.1kg
/g
20.0 g
0%
For the marinade:
For the Brisket:
KNORR Barbecue Paste 1.1kg

20.0 g
Preparation
For the marinade:

Trim any access fat from the beef.
Mix the KNORR Professional Garlic Puree and KNORR Professional Paprika Puree together then spread over the beef.
Cover with cling film and chill for 2 hours.
Bring the water to the boil then whisk in the KNORR Professional Beef Jelly bouillon.
Remove and set aside until needed.

For the Brisket:

Pre-heat oven 150c.
Remove the beef from the fridge 30 minutes before cooking.
Heat oil then add the beef and brown on both sides then remove and place into a deep roasting tray.
Pour the bouillon over the beef then cover with parchment and foil.
Place into the oven and cook for 5 hours.
Once cooked, remove and pour the cooking liquor into a saucepan.
Cover the beef and allow to rest.
Bring the cooking liquor to the boil and reduce by ⅔ then pour in the bourbon and KNORR BBQ Paste.
Simmer for 2 minutes then remove from the heat.

To serve:

Pour the glaze over the beef.
Slice against the grain and serve.