Read More
Buttermilk Panna cotta with port soaked fruits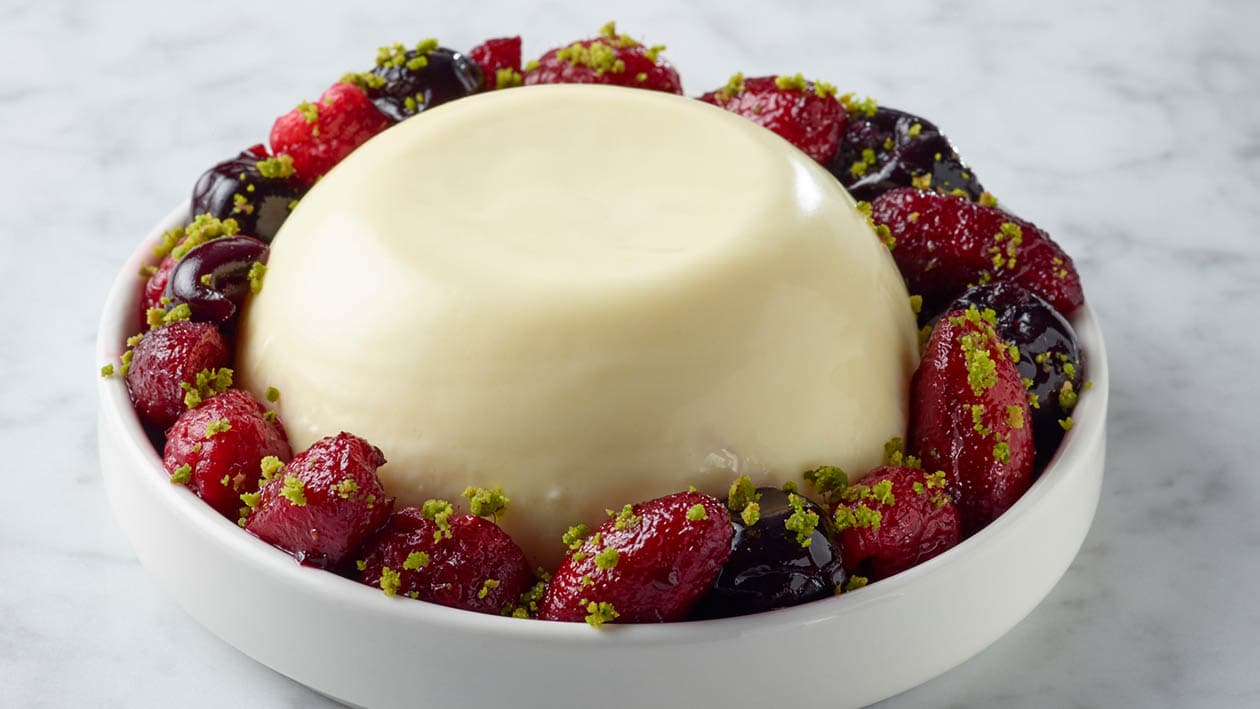 Ingredients
Buttermilk Panna cotta with port soaked fruits
For the Buttermilk Panna cotta
Carte D'Or Panna Cotta 520g
/g
110.0 g
0%
Double Cream
/ml
250.0 ml
0%
Whole milk
/ml
250.0 ml
0%
Buttermilk
/ml
500.0 ml
0%
For the port soaked fruits
Raspberries
/g
350.0 g
0%
Strawberries
/g
200.0 g
0%
Caster sugar
/g
200.0 g
0%
Port wine
/ml
300.0 ml
0%
To finish
Pistachio nuts
/g
75.0 g
0%
For the Buttermilk Panna cotta
For the port soaked fruits
To finish
---
For the Buttermilk Panna cotta

Place the buttermilk, double cream, milk, lemon and orange zest into a pan and bring to the boil.
Whisk in the CARTE D'OR PANNA COTTA MIX and remove from the heat.
Pass the mix through a fine sieve then pour into individual dariole moulds.
Then place into the fridge and allow to set for 3 hours.

For the port soaked fruits

Remove the stones from the cherries and cut into quarters.
Cut the strawberries into sixths.
Place the port and sugar into a pan and reduce by half then add in the cherries and remove from the heat.
Whilst still warm add in the strawberries and cover.

Add in the raspberries when cool.
Cover and place in the fridge until required.

To finish

Cut the pistachios into small pieces.
Place the mould in hot water to loosen the panna cotta.
Then turn out onto the plate and garnish with port soak fruits and pistachio.