Read More
Caramelised French dipped brioche ice cream sandwich, blueberry compote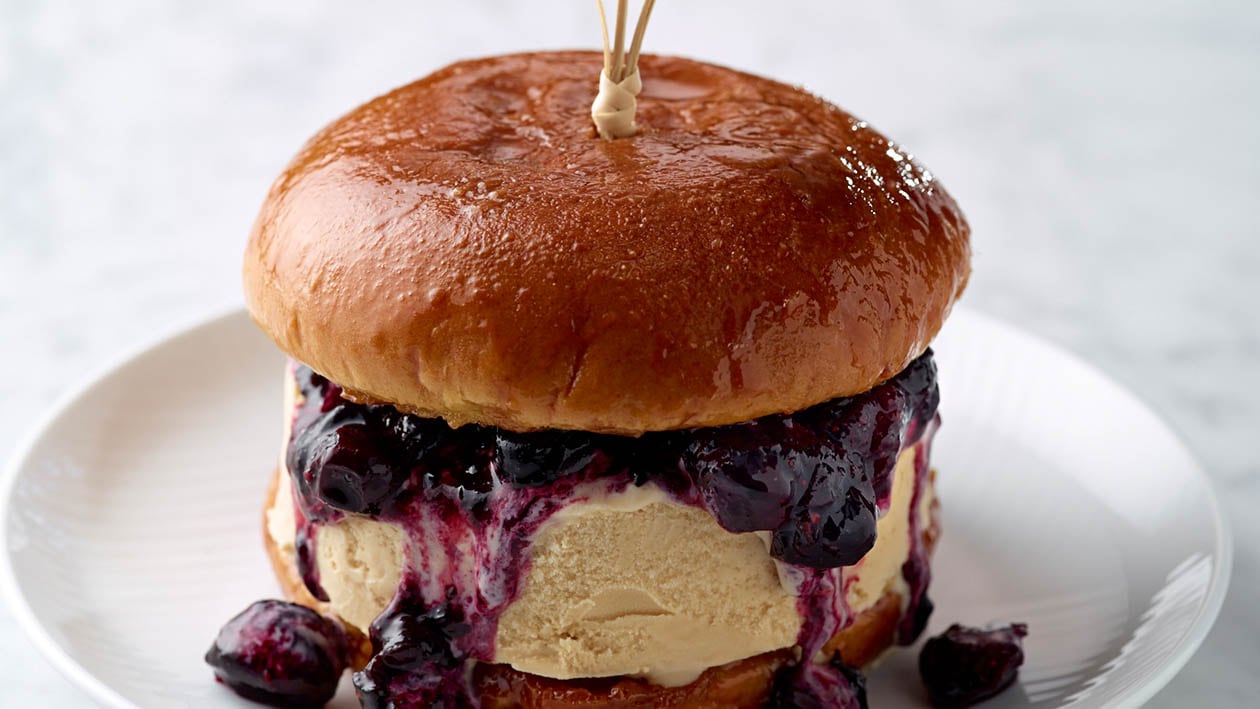 Ingredients
Caramelised French dipped brioche ice cream sandwich, blueberry compote
For the blueberry compote
Blueberries
/g
400.0 g
0%
Caster sugar
/g
100.0 g
0%
For the ice cream
Ben & Jerry's Caramel Chew Chew 1kg
/
0.0
0%
For the French dip
Brioche Bun
/g
600.0 g
0%
Whole milk
/ml
500.0 ml
0%
Double cream
/ml
500.0 ml
0%
Carte D'Or Crème Brûlée / Crème Caramel 1250g
/g
125.0 g
0%
Caster sugar
/g
350.0 g
0%
For the blueberry compote
For the ice cream
Ben & Jerry's Caramel Chew Chew 1kg
For the French dip
---
For the blueberry compote

Place the water and sugar in a pan and bring to the boil and allow to reduce by half.
Add in the blueberries and cinnamon and allow to cook for a minute.
Remove from the heat and place into a container, cover with a lid and allow to cool.
Place in the fridge until required,

For the ice cream

Scoop the ice cream into a ring with the same diameter as the brioche bun and freezer. Repeat this until you have 10 rings of ice cream.
Leave these in the freezer until required.

For the French dip

Cut the brioche buns in half.
Place the milk, double cream and CARTE D'OR CRÈME BRULEE Mix into a bowl and whisk together.
In 2 frying pans add the sugar and heat to a caramel slowly.

Soak the brioche in the Cream mix then add to the caramel in the frying pans.
Add in the butter and allow the bread to caramelise then turn over and allow the other side to caramelise.
Remove from the pan straight to serving plates.

To finish

On the base of the bun add on the ice cream and top with the blueberry compote. Top with the lid of the bun, skewer and serve.