Eton Mess with ripple meringues
Add this sweet refreshing dessert to your summer menu: the classic Eton Mess with raspberries. Served with meringues coloured to give the dessert a burst of colour and easily prepared with MEADOWLAND Double.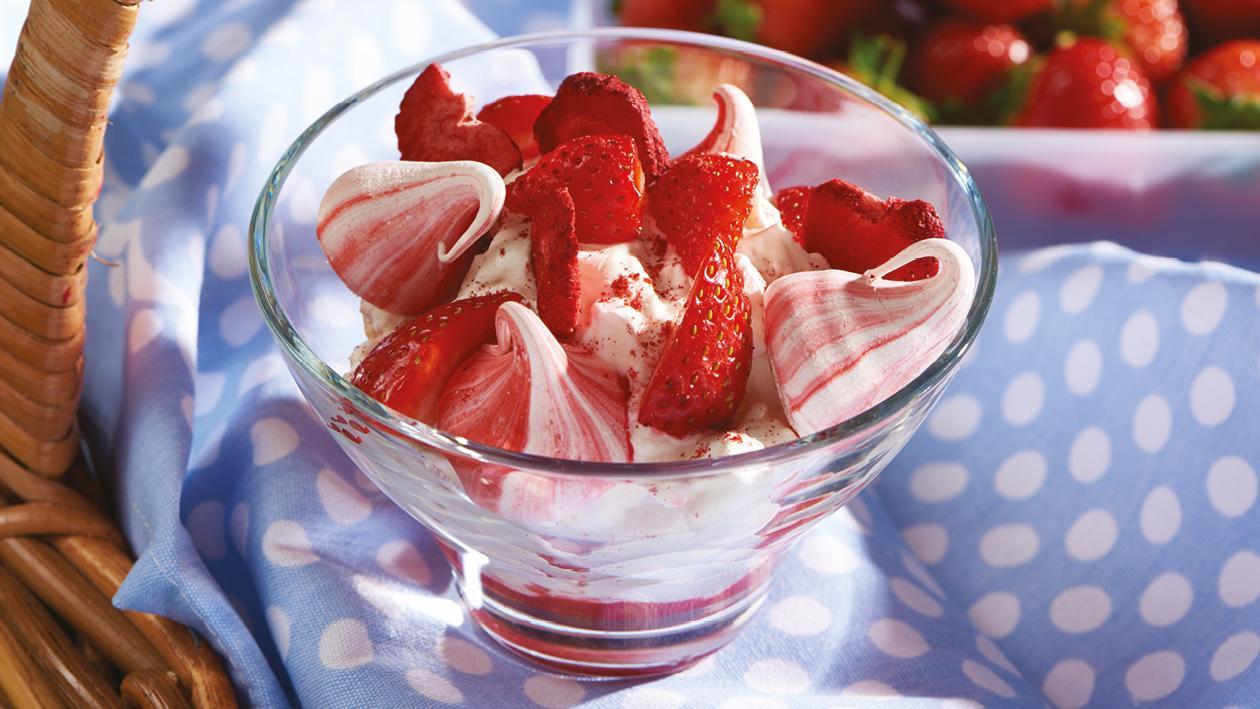 Ingredients
For the mess:
MEADOWLAND Double 1L

800 ml
For the meringues:
To make the mess:
Preparation
For the mess:

Place the MEADOWLAND Double into a machine with whisk attachment.
Scrape the seeds from a vanilla pod and add to the MEADOWLAND Double.
Whisk until soft peaks are formed.
Add in the icing sugar and whisk for a further 20 seconds to ensure it is fully incorporated.
Leave in the fridge until required.

For the meringues:

Place the egg whites in a bowl along with the caster sugar.
Over a bain-marie whisk the whites until the sugar is dissolved and the egg whites are at 37°C.
Remove them from the heat and whisk on a machine until firm peaks are achieved.
Place the red food colouring into a disposable piping bag then move it around inside the bag to create blotches of colour inside the bag.
Add in the egg whites and cut a small hole in the base of the bag.
Allow any excess food coloring to drip from the bag before you start piping.
Pipe onto a lined baking tray into small peaks, as the meringue comes through the bag the ripple effect to be created.
Bake at 130°C until the meringues are fully cooked.

To make the mess:

Dice the strawberries and fold half through the mess. Reserving the remaining for the build.
Place a serving spoon of the mess into the base of your dish.
Then add on a few diced strawberries and meringues.
Add another serving spoon of the cream on top of the garnish with the strawberries and meringue pieces.