Fire roasted ramiro peppers, provoleta steak burger
This classic steak burger recipe is topped with provoleta cheese, roasted onions, HELLMANN'S Real Mayonnaise and a fire roasted Ramiro pepper giving it a sweet pepper flavour.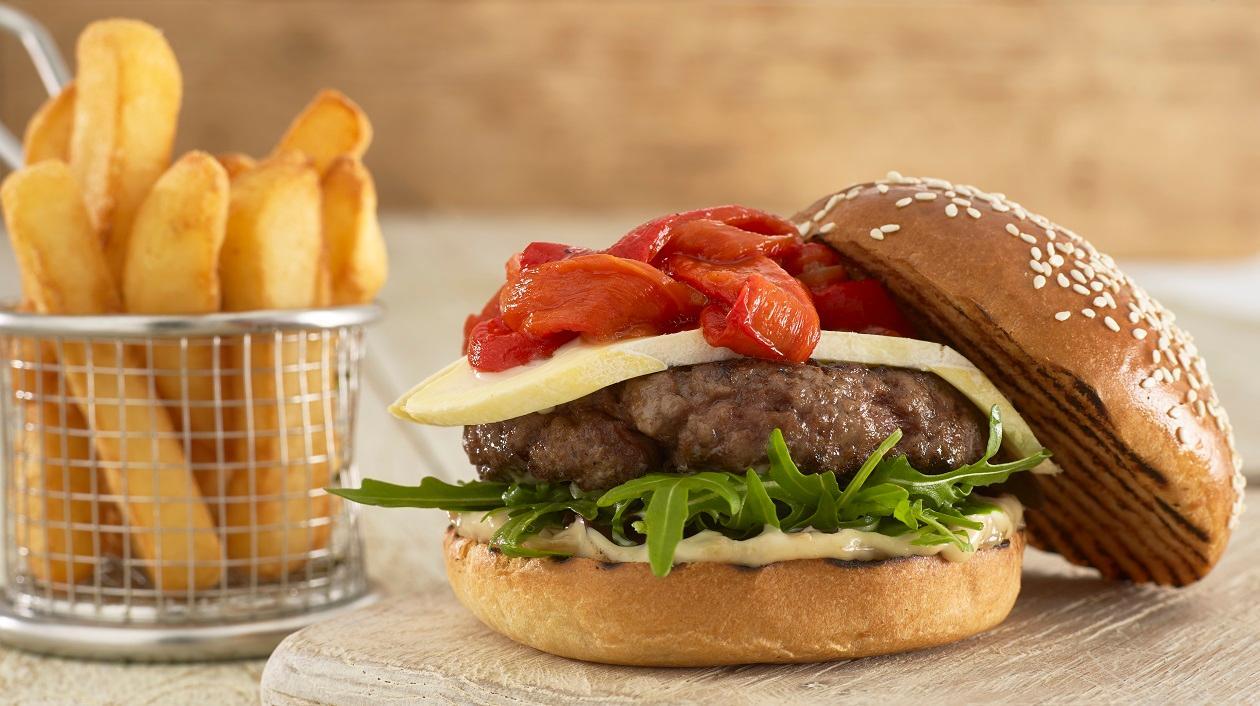 Ingredients
For the burger patty:
For the fire roasted peppers:
For the roasted onion mayonnaise:
To cook and serve:
Preparation
For the burger patty:

Take the beef mince and mix together with the egg and salt.
Take into 10 even sized balls and press into a ring mould to the desired diameter.

For the fire roasted peppers:

Lightly oil the peppers and place on a hot charcoal grill, use either a blow torch or gas grill if charcoal is not possible.
Allow each side to scorch and blacken.
When fully blackened put the peppers into a stainless steel bowl and cover with cling film.
Allow them to cool for 30 min.
Remove the cling film and gently rub the skins off the peppers.
When all the skins have been removed, take off the stalk and remove the seeds from the inside.

For the roasted onion mayonnaise:

Place the unpeeled onions onto a hot charcoal grill and allow to blacken all over.
Remove from the heat and allow to cool.
Peel off the blackened layer then roughly chop.
Fold into the HELLMANN'S Real Mayonnaise.

To cook and serve:

Wash and dry the rocket.
Grill the burger patty to the desired temperature.
When the burger is cooked and is resting, grill the bun.
Place the caramelised onion mayonnaise on the base of the bun and add the rocket on top.
Place the burger patty on top then add on the provoleta cheese and fire roasted peppers.
Top with the burger bun lid.