Strawberry Jamie Dodger Mousse
A fun mix of strawberry jam, light airy mousse and crunchy Jammie dodger biscuits.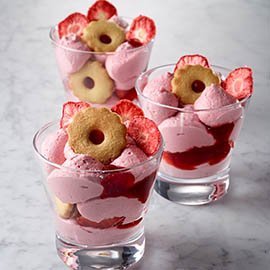 Ingredients
For the biscuits:
For the strawberry mousse
Carte D'Or Strawberry Mousse 630g

105 g
Preparation
For the biscuits:

Pre heat the oven 170 C.
Place the jam in a pan and bring to a medium heat, then pass through a sieve, allow to cool and place in a piping bag.
Place the flour, butter, icing sugar and salt into a mixing bowl, then with a paddle rub together the mixture until it resembles breadcrumbs.
Add the eggy yolks and mix until a dough forms.
Turn out onto a floured surface and roll between two sheets of baking parchment until approx. 0.5cm thick.
Cut out rounds with a cutter
Divide the rounds in half and using a small fluted cutter make a hole in the middle of half of the biscuits.
Place on a baking tray and bake for 10-12 minutes, or until golden brown and crisp.
Remove from the oven and allow to cool.
Pipe the strawberry jam in the centre of the whole sables, then place the sable with the hole on top.

For the strawberry mousse

Place the CARTE D'Or Strawberry Mousse Mix and milk into a mixing bowl and whisk on a low speed for 2 minutes and then 5 minutes on a fast speed.
Place in a piping bag.

To assemble:

Pipe a swirl of CARTE D'OR Strawberry Mousse in the bottom a dessert glass and place 2-3 Jamie dodgers on top, the pipie some more mousse in the gaps.