Knorr 100% Soup Cream of Chicken 12 individual portions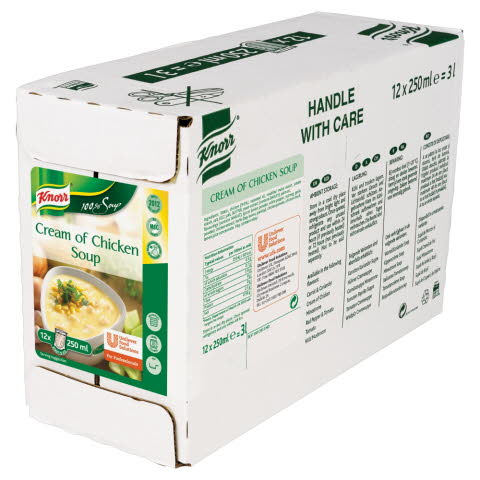 Product Codes
15181803
8722700059264
8722700059264
Preparation
MICROWAVE: Individual microwaves may vary. Refer to manufacturers' instructions. Do not microwave a closed pouch. Cut corner of pouch as indicated by dotted line. Place pouch in microwave. Select power 600W-900W (or 1000W-2000W 50% power). Heat for 2½-3 minutes. Pour contents into serving bowl, stir and serve immediately. WARNING: pouch and content will be hot. ON THE HOB: Open the pouch. Pour contents into the pan, heat product to a minimum temperature of 75°C. Stir from time to time. COMBI-STEAMER OVEN: Preheat the combi-steamer oven to 95°C, 100% steam. Place the unopened pouch in a perforated tray suitable for use in the combi-oven. Heat for 30 minutes at max 95°C, 100% steam. Remove immediately from combi-steamer oven, open & transfer contents to serving unit. Ensure that the temperature of the contents is >75°C. WATER BATH: Place the unopened pouch in a water bath (85°C). Heat through for 30 minutes. Remove from water bath, open & transfer product to serving unit. Ensure that the temperature of the contents is >75°C. HOLDING PRODUCT IN A BAIN MARIE: Product should be held at or above 70°C for a maximum of 4 hours & stirred frequently to ensure even heat distribution. Prepare only the amount needed for one service period & do not add fresh product to older batches. If products remain unopened after heating, it can be cooled down to <10°C (following HACCP rules) and reheated to above 75°C for use within 24 hours.
Yield
12 portions (12 x 250ml)
Storage
- Store in a cool dry place. Once opened, refrigerate and use within 48 hrs. - Suitable for freezing
Benefits
- Bain Marie stable
Allergen Information
Wheat, barley
Allergen
Cereals containing gluten
Eggs and their derivatives
Milk and its derivatives
Additives
No MSG added
No artificial colours
No added artificial preservatives
Dietetary Information
Meets DH 2012 salt targets
Shelf Life
12 months unopened
Ingredients
Water, chicken (9.0%), rapeseed oil, modified maize starch, potato starch, salt, EGG yolk, BUTTER, yeast extract (contains BARLEY), palm oil, flavourings (contains WHEAT), spices (onion powder, white pepper, nutmeg, garlic powder), chicken extract, herbs (bay leaves, parsley), chicken powder, chicken stock, lemon juice concentrate.
Description
A ready prepared cream of chicken soup


Product Nutrient Information

Portion size

| Item | Per 100 g/ml | Per Portion |
| --- | --- | --- |
| Energy kJ | 250 kJ | 630 kJ |
| Energy kcal | 60 kcal | 150 kcal |
| Fat | 4.5 g | 11.0 g |
| Saturates | 0.7 g | 2.0 g |
| Carbohydrate | 3.0 g | 8.0 g |
| Sugars | 0.0 g | 0.0 g |
| Fibre | 0.0 g | 0.0 g |
| Protein | 2.5 g | 6.0 g |
| Salt | 0.57 g | 1.44 g |

Reference Intake 8400kJ/2000kcal 8400kJ/2000kcal