HELLMANN's Big Boys Vegan Out and Out
Inspired by Californian burger restaurant In 'n' Out. A plant based burger cooked animal style (in mustard). Loaded with cheese, our Big Boys burger sauce made of course with HELLMANN's and a homemade vegan bun. They taste amazing.

Plant Based
Autumn
Winter
Summer
Spring
Main courses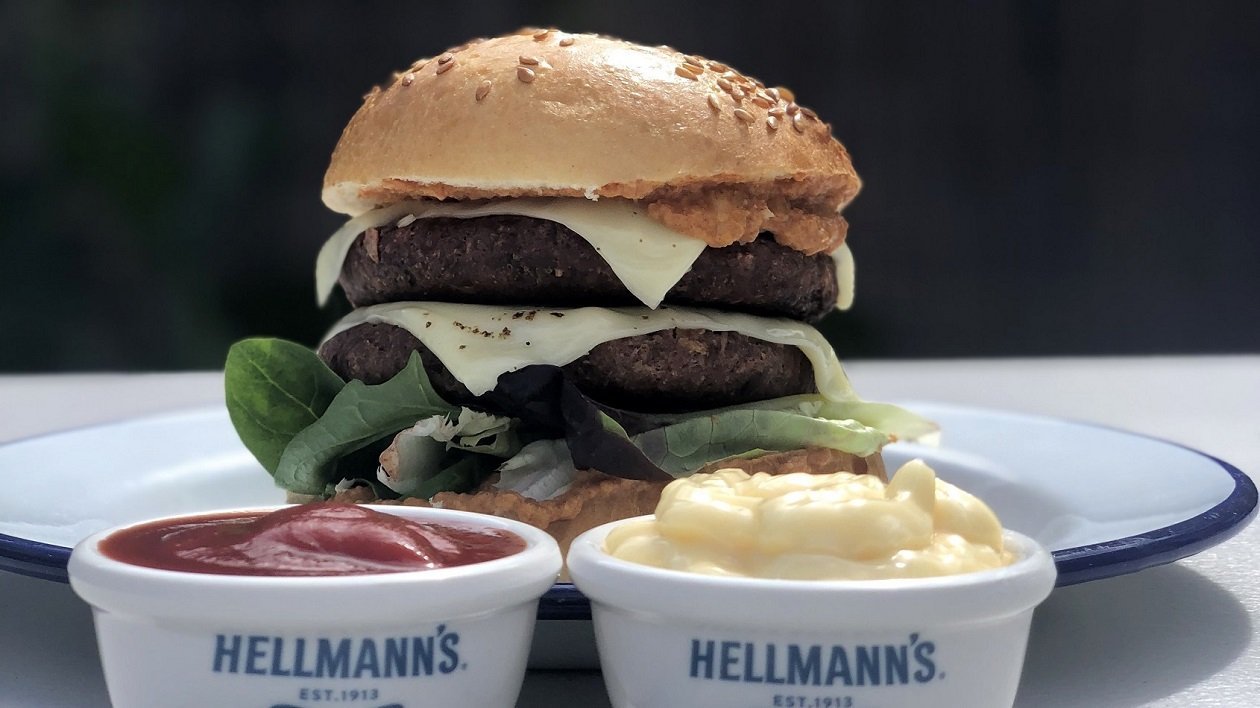 Ingredients
HELLMANN's Big Boys Vegan Out and Out
Big Boys Burger Sauce:
Hellmann's American Style Yellow Mustard 260g
/g
50.0 g
0%
Vegan Buns:
Strong Flour
/g
500.0 g
0%
Soya Milk (unsweetened)
/ml
30.0 ml
0%
Big Boys Burger Sauce:
Vegan Buns:
Soya Milk (unsweetened)

30.0 ml
Preparation
Big Boys Burger Sauce:

Finely chop Onions and gherkins.
Mix together with HELLMANN's Vegan Mayo, Tomato Ketchup and American Style Yellow Mustard.

Vegan Buns:

Mix warm water with yeast ( this will help to get the yeast working). Put the rest of the bun ingredients into the mixer and slowly add the yeast mixture. Once you have a smooth mixture you want to cling film and leave in a warm place to prove and let it double in size.

While the dough is proving make the glaze by heating up the soya milk and agave syrup.

Once the dough has doubled in size you want to knock it back. Once done you want to portion into 90g balls and roll them into a tight ball. Put them onto a tray dusted with flour and let them prove again for 20/30 mins.

When the second prove is done you want to glaze the buns and top with sesame seeds and poppy seeds.
Then bake in the oven at 200oc for 16 minutes. A top tip here is to put some ice cubes on the bottom of the oven to create some steam in the oven and a nice crust on the rolls. When cooked turn a bun over and tap the bottom of the bun for a hollow sound.

Putting it all together:

Toast your buns on grill.
Brush Hellmann's American style mustard on one side of the burgers and put that side down to grill for 4 mins. Repeat the process for the other side of the burgers.
Once cooked melt vegan cheese over the top.
Smother buns in the Big Boys burger sauce.
Add lettuce and sliced tomato to the bottom bun base, your cheese-topped burgers, lettuce and the bun lids will finish it off.