Read More
Spinach, Squash & Aubergine Lasagne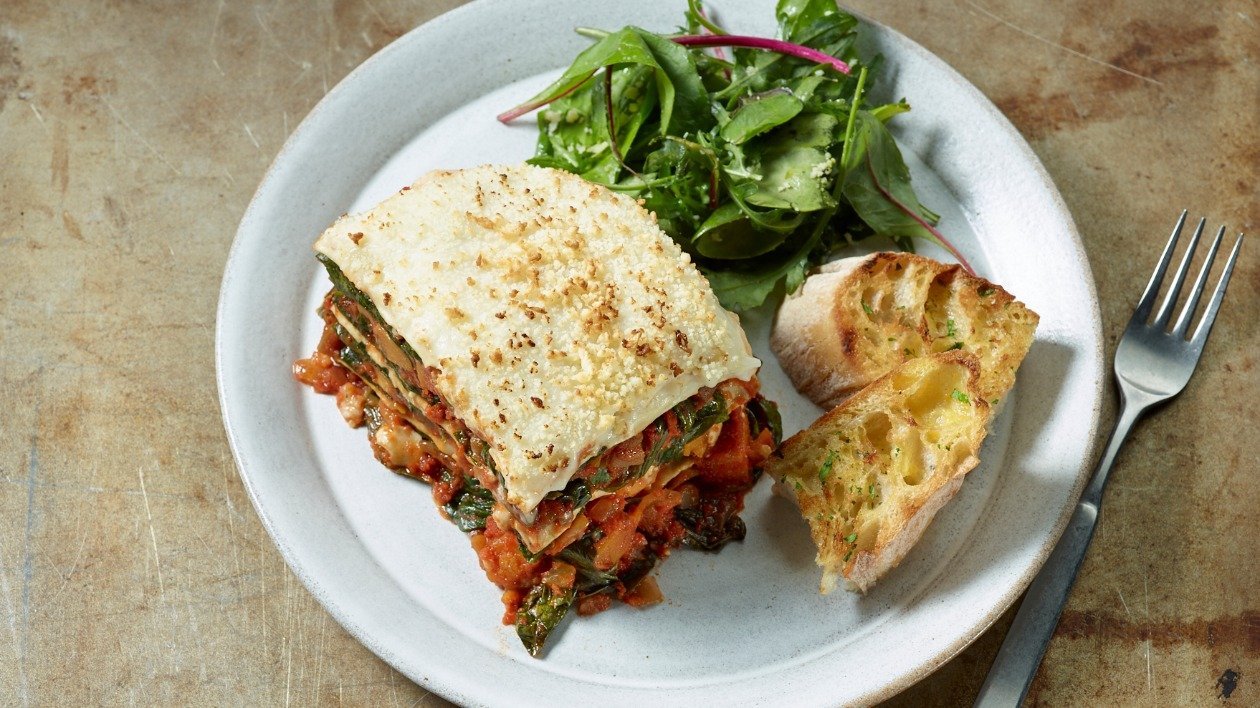 Ingredients
Spinach, Squash & Aubergine Lasagne
For the filling
Olive oil
/ml
100.0 ml
0%
Butternut Squash, peeled and diced
/kg
1.0 kg
0%
KNORR Professional Garlic Puree 750g
/g
30.0 g
0%
Dried oregano
/g
1.0 g
0%
KNORR Tomato & Basil Concentrated Sauce 1.1L
/ml
500.0 ml
0%
To build:
Vegan Cheese
/g
150.0 g
0%
Knorr® Professional Vegetable Bouillon Powder 1kg
/g
20.0 g
0%
Colman's English Mustard Powder 2kg
/g
5.0 g
0%
Soya Milk (unsweetened)
/l
1.0 l
0%
For the filling
Butternut Squash, peeled and diced

1.0 kg
To build:
Soya Milk (unsweetened)

1.0 l
---
For the filling

Pre-heat the oven 170c.
In a large oven tray mix the butternut squash with the half the olive oil and roast for around 30 minutes or until the squash is golden and soft. Set aside
Peel and dice the onion then sweat in the remaining olive oil for 5 minutes.
Dice the aubergine roughly the same size as the butternut then add to the onions and cook for 5 minutes.
Stir in the KNORR Garlic puree then add the water andKNORR Tomato & Basil Concentrate Sauce then simmer for 10 minutes.
Remove from the heat and add then spinach and roasted butternut squash.
Gently fold together and allow the spinach to wilt.
Allow to cool slightly

To build:

Bring the soya milk, mustard, KNORR Vegetable Bouillon Powder to the boil then whisk in the KNORR White Roux to thicken then remove from the heat.
Spoon some of the white sauce in to the bottom of the serving dish then spread a quarter of the filling over the top.
Add a layer of the KNORR Lasagne sheets, then another spoon of white sauce.
Repeat this process until you have three layers of pasta and finishing with the last quarter of filling.
Top with a final layer of white sauce and spread evenly add sprinkle over the grated vegan cheese.

To serve:

Cover with foil then bake for 45 minutes removing the foil half way through until golden.
Remove from oven and allow to cool slightly before cutting in to portions.