Vegan Hot Pot
This recipes is an easy way to make a traditional recipe vegan. The mushrooms once pan-fried give a "meaty" taste and texture to the dish.
Vegan
Vegetarian

Plant Based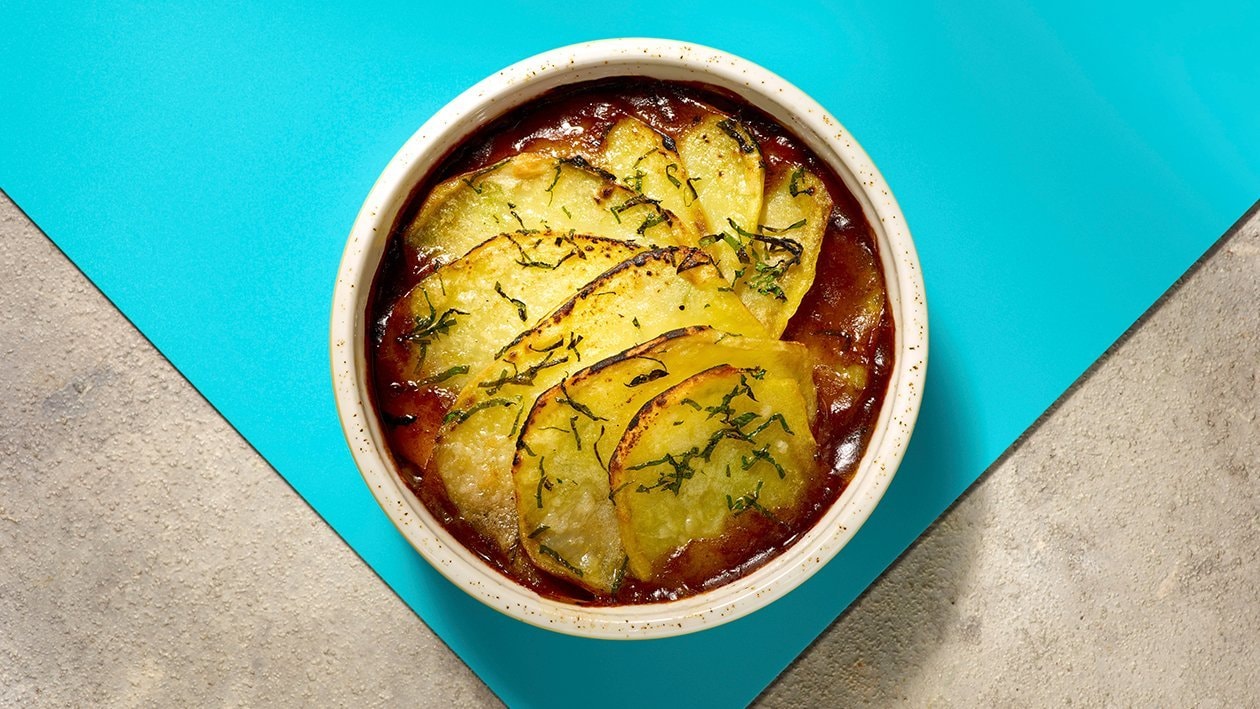 Ingredients
Vegan Hot Pot
For the hot pot:
King Oyster Mushrooms
/g
500.0 g
0%
Rapeseed oil
/ml
50.0 ml
0%
Knorr® Professional Vegetable Paste Bouillon 1kg
/g
20.0 g
0%
Green lentils, boiled
/g
250.0 g
0%
Knorr® Professional Gluten Free Gravy Granules for Poultry Dishes 25L
/g
50.0 g
0%

May Contain Peanuts
May contain tree nuts
Flora Freedom
/g
30.0 g
0%
For the hot pot:
King Oyster Mushrooms

500.0 g

Green lentils, boiled

250.0 g
Preparation
For the hot pot:

Peel and dice the onions, carrots and dice the leeks.
Heat half the oil in a pan and add the vegetables and sweat for 5 minutes then add the thyme and garlic.
Pour in the lentils, water, marmite and KNORR Vegetable bouillon then simmer for 10 minutes.
Add the KNORR Gravy and thicken the sauce then remove from the heat.
Slice the mushrooms lengthways into steaks then heat the remaining oil and "seal" the steaks for 2 minutes on each side then set aside until needed.
Peel and thinly slice the potatoes then melt the flora and pour over allowing to coat all the potatoes.
Pour half of the filling into a serving dish then add a layer of the mushroom steaks then repeat and finish with a layer of potatoes.
Cover with tine foil, then place into the oven and bake for 30 minutes.
Remove the foil and continue to cook uncovered for 15 minutes or until golden brown.