BBQ Seitan "belly" and buttermilk vegan nuggets with gravy, slaw and grilled corn
Seitan based versions of American classics
Vegan
Vegetarian

Plant Based
Main courses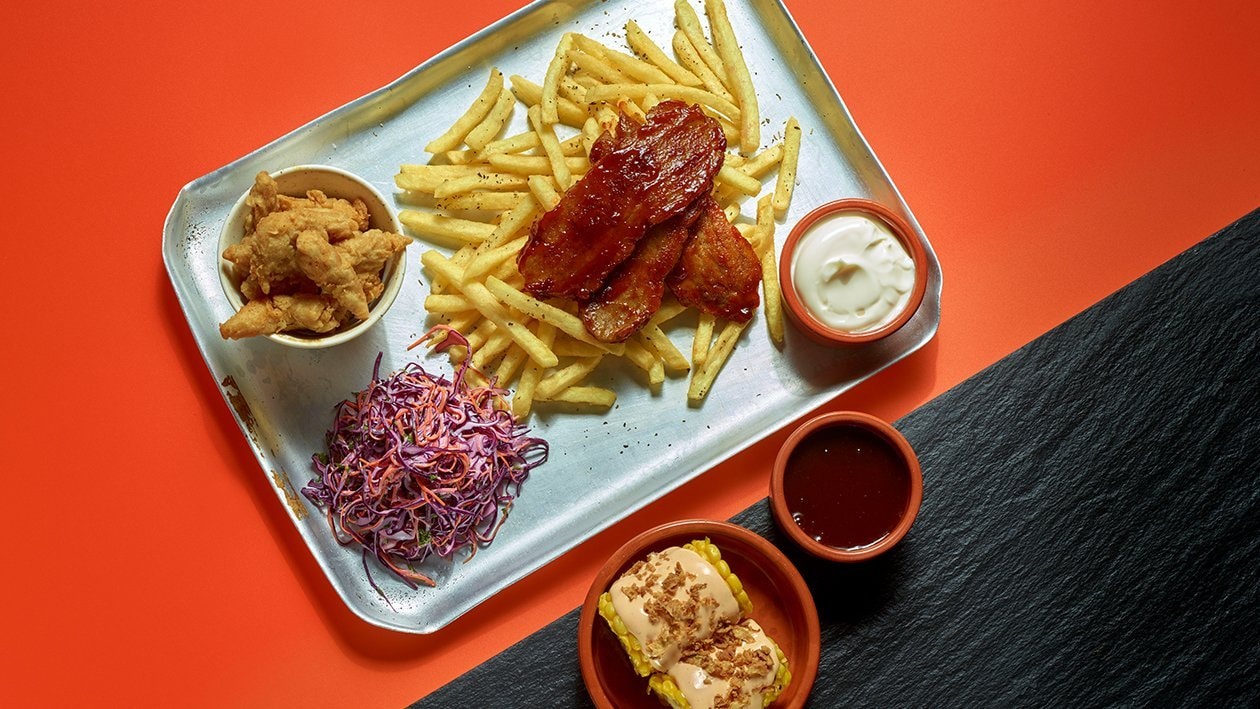 Ingredients
BBQ Seitan "belly" and buttermilk vegan nuggets with gravy, slaw and grilled corn
For the gravy
Knorr® Professional Gluten Free Gravy Granules for Meat Dishes 25L
/g
75.0 g
0%
For the seitan base
Vital Wheat Gluten Flour
/g
720.0 g
0%
Butter beans canned in water
/g
400.0 g
0%
Marmite Yeast Extract 600g Tub
/g
40.0 g
0%
KNORR Paste Bouillon Vegetable 2 x 1kg (as sold)
/g
12.0 g
0%
For the BBQ seitan 'belly' and the 'buttermilk' vegan nuggets
Seasoning (salt+pepper)
/g
10.0 g
0%
Soya Milk (unsweetened)
/ml
200.0 ml
0%
Plain flour
/g
150.0 g
0%
For the red cabbage slaw and grilled corn with paprika mayo
Red cabbage
/g
200.0 g
0%
Crispy Fried Onions
/g
30.0 g
0%
For the gravy
For the seitan base
Vital Wheat Gluten Flour

720.0 g

Butter beans canned in water

400.0 g

KNORR Paste Bouillon Vegetable 2 x 1kg (as sold)

12.0 g
For the BBQ seitan 'belly' and the 'buttermilk' vegan nuggets
Seasoning (salt+pepper)

10.0 g

Soya Milk (unsweetened)

200.0 ml
For the red cabbage slaw and grilled corn with paprika mayo
Crispy Fried Onions

30.0 g
Preparation
For the gravy

Boil 1 litre of water and whisk in KNORR Gluten Free Gravy Granules for Meat Dishes for 30 seconds.

For the seitan base

Blend Butter Beans with 400ml Water.
Mix the above with vital wheat gluten flour, MARMITE Yeast Extract and KNORR Professional Garlic Puree for 2 minutes with dough hook attachment.
With half of the above mix tear into nugget sized pieces. shape the other half into a 3cm high rectangle.
Make up vegetable bouillon using KNORR Paste Vegetable Bouillon and 500ml of boiling water.
Poach both seitan pieces in vegetable bouillon for 15 minutes and leave to chill in bouillon for 3 Hours.

For the BBQ seitan 'belly' and the 'buttermilk' vegan nuggets

Cut seitan belly into thin slices, saute to colour and add KNORR Barbecue Sauce to glaze.
Blend tofu, soya milk and juice of lemon for Vegan yoghurt. Add 'no chicken pieces' and marinade for 15 minutes.
Dust 'vegan nuggets' in plain flour, seasoning and deep fry at 175c for about 4 minutes.

For the red cabbage slaw and grilled corn with paprika mayo

Finely slice red cabbage, onion and grate carrot. Mix with half of HELLMANN'S Vegan MAYO.
Trim sweetcorn Cob into 3 pieces, chargrill, top with remaining HELLMANN'S Vegan Mayo mixed withKNORR Professional Paprika Puree. Sprinkle with crispy fried onions.