This burger is a very special one to us. It's the burger which won us Burger Chef of the Year 2020!
For our burgers we get our beef from Homestead Farm which is 12 miles from our restaurant. The cows are British rare breed grass fed cattle. We like to use a mixture of brisket, chuck, rib tip and flank in our burgers. We get the whole cuts of meat and mince them in house so we are able to serve a rare/medium rare burger. We like to make sure there is a minimum of 20% fat in the mixture, so we also add some bone marrow to the mix too.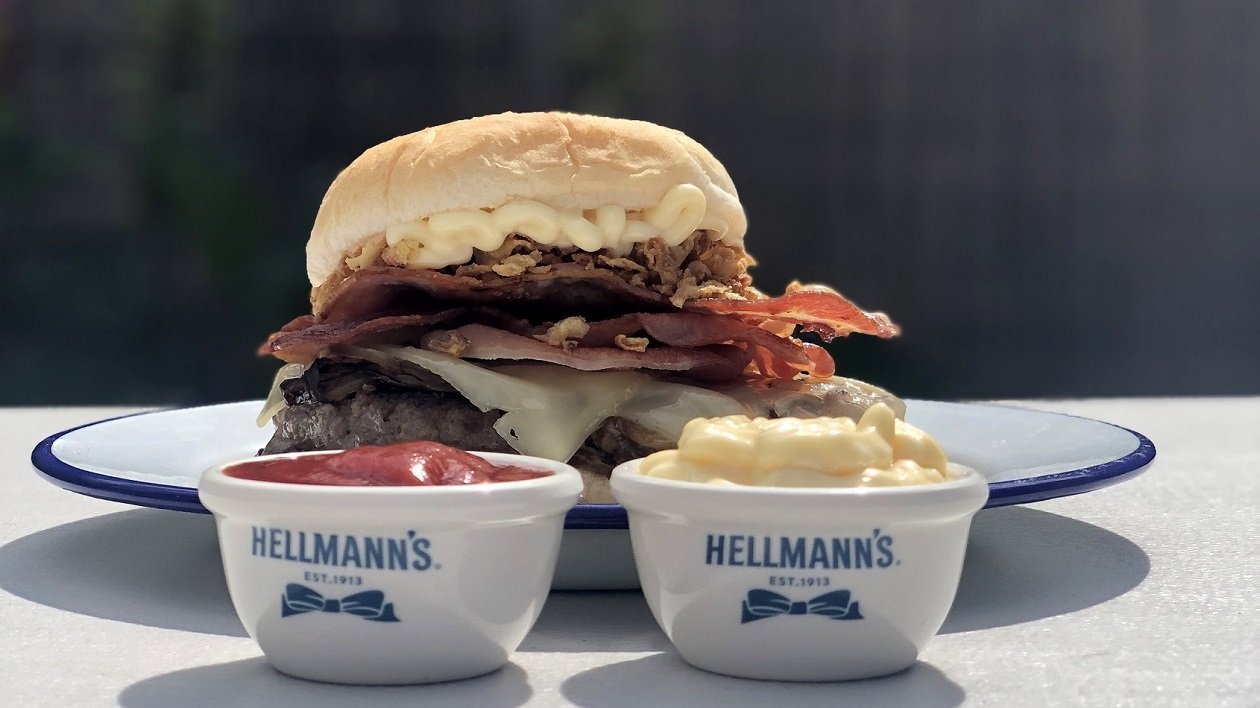 Ingredients
Beef Jus:
Chestnut mushrooms

100.0 g

White Chicken Stock (scratch)

1.0 l
The Buger:
Crispy Fried Onions

75.0 g
Preparation
Beef Jus:

To make the jus brown the beef trimmings in the oil and butter.
Once you have a nice caramelisation of the meat add the chopped onions. Cook until soft and translucent.
Add sliced mushrooms, chopped celery and carrot and cook for 5 minutes.
Add red wine and reduce by a half.
Once reduced, addchicken stock, bay leaf and thyme sprigs. Simmer for2 of hours. While simmering you want to scoop off any bits on the top of the sauce.
When the sauce is ready pass through chinoisand reduce to the desired consistency.

The Buger:

Toast the buns.
Gently warm up the beef jus.
Pack the finely sliced onions on both sides of the burger and put into a warm pan. Season well, and cook for 5 mins. Then turn over and cook for another 5 mins. You want the onions to look almost burnt, so the flavour of the onion is going into the burger.
Once cooked, put the emmentalon top and leave to melt. When melted take out of the pan and leave to rest while you then cook the bacon in the same pan. While the bacon is cooking, to get the full experience, you'll want to inject the beef jus into the burger. You can do this with a syringe. If you don't have a syringe, you can serve the beef jus on the side so you can dip the burger in it or pour it over the top.
When the bacon is ready spread Hellman's Real Mayonnaise on to both buns, then add the sliced gerkins, burger with cheese, smoked bacon and top with crispy onions.